Weakened Carrefour to defend Dia spin-off
May 11 - Carrefour SA will meet investors next week to defend a plan to spin off its discount chain amid growing questions over its leadership after the shelving of another proposed spin off and the departure of a key manager.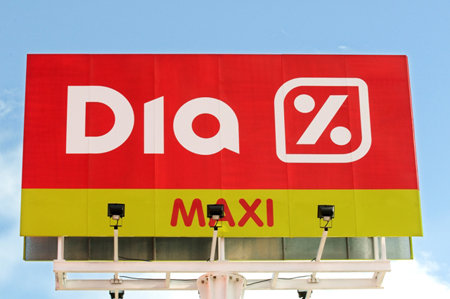 Supermarket chain Dia, currently part of the Carrefour Group
Europe's biggest retailer last week fired the man whose mission was to revive its core French business, which has been underperforming for years, and delayed a controversial property listing, fueling talk of boardroom division.
The French group vowed, however, to push ahead with the listing of Dia, the world's third-largest discount group, on the Madrid stock exchange, and will detail the plan on May 17.
The stakes are high for Chief Executive Lars Olofsson, under pressure from key shareholders to revive Carrefour's fortunes and facing a series of defections by managers and a board member due to dissent over the benefits of the property deal.
"Management has to restore confidence shaken by too many U-turns in the past," said Laurence Hofmann, an analyst with French investment bank Oddo.
Carrefour has confirmed it expects higher 2011 sales and operating profit, but its decision to fire James McCann after just 15 months heading its underperforming French unit fueled concern among analysts and investors.
"I would like to know if a profit warning is not in the cards," said one London-based analyst.
Longer-term, key shareholders Colony Capital and Groupe Arnault, nursing an estimated paper loss on their Carrefour investment of between 1.5 billion euros ($2.10 billion) and 2.2 billion, may demand more asset sales to boost returns now that the property deal is on hold.
Aurel BGC analyst Jean Marie L'home said one option could be the sale of Carrefour's consumer finance unit, which he valued at some 3.8 billion euros.
Top shareholders might also push harder for disposals in markets where Carrefour is not a leader, said Vincent Verdier, director of applied research at Kantar Retail.
"I think it's more about small, tactical (deals) rather than a massive exit from a key market," he said, mentioning Argentina, Colombia and Poland as possibilities.
Colony and Arnault declined to comment.
SPECIAL DIVIDENDS
Carrefour, weakened by two profit warnings last year, had in March proposed floating 25 percent of Carrefour Property and all of Dia to deliver 4 billion euros in special dividends.
The plan was seen as a bid to mollify Colony and Arnault, French billionaire Bernard Arnault's private equity group, which together hold 13.5 percent of the capital and 20 percent of the voting rights of Carrefour. The two funds have since seen their holdings lose nearly 40 percent since 2007.
The now shelved spinoff of Carrefour Property, which has a gross asset value of 10 billion euros, had sparked strong opposition inside and outside the company. Critics led by activist investor Knight Vinke said the plan lacked strategic benefits for Carrefour and entailed hefty one-off costs.
Although the plan was put on ice, some critics said confidence would not be restored until Carrefour takes steps to prove it will act for all shareholders, not just Colony and Arnault, by appointing more independent directors.
"The status quo is not an option," said one.
Officially the property spin-off is still on the cards, but many believe the deal is dead. Two sources close to the matter said that at least one legal consultancy advised Carrefour's board against going through with the deal.
Listing Dia, which is valued at up to 4 billion euros, is less controversial, though some analysts have reservations.
"This implies the definitive loss of a concept, hard discount, with potential in emerging markets ... what is Carrefour's interest in surrendering control?" said Hofmann.
Getting the Dia deal cleared at a June 21 shareholder meeting is key for Olofsson, a former Nestle executive who took over at Carrefour in 2009 and is now taking control of the French unit until McCann is replaced.
The group's explanation for postponing the property deal was that Olofsson would be too busy getting France -- which makes 39 percent of group turnover -- on track.
In an April 11 letter to Carrefour's board, Knight Vinke wrote: "This is Carrefour's 'last chance' and the plan cannot be allowed to fail under any circumstances".
Analysts agree that Olofsson needs to deliver soon.
"Carrefour doesn't have the luxury of time," said PlanetRetail analyst Natalie Berg. "It continues to lose ground to rivals such as Casino and getting France right is key to securing its rank as the world's second largest retailer."
By Dominique Vidalon and Pascale Denis
(Additional reporting by Mark Potter in London and Julien Ponthus in Paris; Editing by David Holmes)
© Thomson Reuters 2023 All rights reserved.