Watches, jewellery makers set for tough Basel fair
ZURICH, March 24 (Reuters) - Jewellers and watchmakers are bracing themselves for make-or-break deals at the world's top luxury trade fair in Basel starting on Thursday as the industry suffers its worst decline in a more than a decade.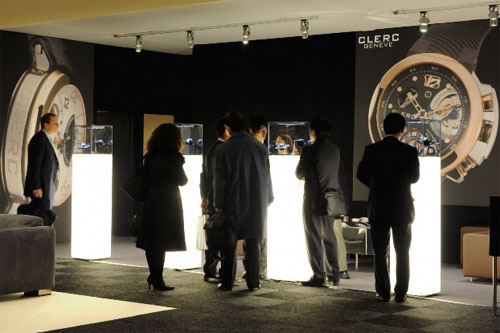 Source: Baselworld.com
Sales forces are sprucing themselves up to showcase their wares at Baselworld, where some are hoping to secure up to 50 percent of their orders for the year.
Most of the world's biggest jewellers and watchmakers have posted declining sales and profits for 2008 and analysts expect watch orders in Basel to fall as much as 30 percent this year, with the smallest and weakest brands hit hardest.
"Retailers will focus on brands with a history and a good distribution network. Newer brands will struggle to stay in the portfolio of retailers," said Vontobel analyst Rene Weber.
Exports of Swiss timepieces -- a closely-watched industry barometer -- fell 22 percent in February, the fourth consecutive monthly decline, providing further evidence that demand for ostentatious items such as luxury watches is sliding.
The Swiss watch industry grew at a blistering pace for five years as bankers in Manhattan, London and Tokyo splurged on timepieces, encouraging many new groups to enter the industry.
However, as bonuses are being waived and tens of thousands of jobs have been cut in the financial sector, the traditional pool of buyers of Rolex or Patek Phillipe watches has dwindled.
The trend has also taken its toll on the earnings of leading watch and jewellery makers.
Swatch Group (UHR.VX), the world's largest watch group behind brands Breguet, Blancpain, Omega and Tiffany, saw a 17 percent drop in 2008 net profit on flat sales at current exchange rates.
The watch and jewellery unit of the world's biggest luxury group LVMH (LVMH.PA), owner of brands Tag Heuer, Zenith, Hublot, Fred and Chaumet, saw a 16 percent drop in profit from recurring operations in 2008 on a 2 percent decline in sales.
Hermes' (HRMS.PA) 2008 watch sales fell 9 percent, pulled down mainly by Japan, while Bulgari's (BULG.MI) revenues from watches fell 11 percent last year at constant exchange rates and jewel sales dropped 1.3 percent on the same basis.
Some 2,000 companies, including other well-known brands such as Chanel and Versace, will soon start filling the sprawling halls of the Basel exhibition centre to flaunt their pieces at costly stands until April 2.
BE SEEN
"We have not seen any signs that companies are cutting back on the designs of their stands or the presentation of their brands, said Sylvie Ritter, show director of Baselworld.
Swatch said it would continue to invest in marketing while Hublot recently stressed the importance of reaching out to customers in tough times.
"The large companies are spending on advertising and struggling watchmakers have no choice but to match this. But by doing so they are likely to overspend and push themselves out of business," said Kepler Capital Markets analyst Jon Cox.
The Swiss watch industry, which has already survived several financial crises, may have to shed more jobs if orders at the fair are disappointing and Cox said some 10 percent of jobs could go in 2009.
However, Francois Matile, general secretary of the Swiss watchmaking employers' association, does not foresee a "Tsunami of job cuts" after the industry's workforce grew by 25 percent to 50,000 between 2002 and 2008.
Weber said companies were more likely to introduce shorter working hours before cutting jobs, especially as they recently had problems finding enough watchmakers and they would want to be ready to meet demand when better times return.
For a factbox on the main issues facing the watch industry, click on
(Editing by Astrid Wendlandt and Simon Jessop)
© Thomson Reuters 2023 All rights reserved.