Uzbek leader's daughter hits fashion controversy
NEW YORK, Sept 15, 2011 (AFP) - High fashion or dictator chic? Gulnara Karimova, the fashion-loving daughter of Uzbekistan's strongman leader, ran into controversy Thursday as she unveiled her new collection in New York.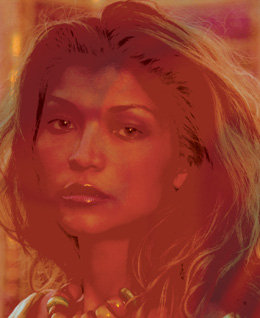 Gulnara Karimova. Photo from Gulnara Karimova official website
After being expelled from the official New York Fashion Week, Karimova took her show to the ornate Cipriani's restaurant in Manhattan, pursued by protesters who accuse her ex-Soviet state of exploiting child labor and abusing human rights.
Inside, willowy models flitted about in flowing, see-through silks with traditional Uzbek motifs, drawing applause from champagne-drinking fashionistas.
Outside on the pavement, activists waved signs and shouted, painting Karimova as a rogue fashion designer who needs to be held to account.
"We can't let her slip out of the spotlight. Even though fashion week has disinvited her, you have children in Uzbekistan picking cotton right now... for less than $5 a day," protester Abby Milles, from a teacher's union, told AFP.
The anti-Karimova backlash began last week when Fashion Week's organizers gave in to pressure from Human Rights Watch and others, pointing out Uzbekistan's long history of rights abuses.
Karimova's father Islam Karimov has ruled without opposition since 1989, imprisoning dissidents and, allegedly, boiling two opponents alive. His bloody crackdown on a rare burst of unrest in the city of Andijan in 2005 left 187 people dead, according to official figures, or many hundreds, according to rights groups.
Uzbekistan has also long been accused of using forced child labor in its all-important cotton growing industry, one of the world's biggest. The Uzbek government denies this, saying in June that accusations were "mendacious insinuations and fabrications."
But Gap and H&M are among several dozen retailers who have pledged not to buy cotton originating from the Central Asia state.
"Enslaving children and torturing dissidents is never chic," Stev Swerdlow of Human Rights Watch said.
Karimova struck back at Fashion Week by renting Cipriani's, an A-list venue renowned for its tiled floors and extravagant marble columns. Instead of a normal catwalk, tall, moody models strutted down an Uzbek-style carpet to pulsing music.
Karimova herself did not attend, leaving the show to the members of her GULI Creative Lab, which comprises about 60 Uzbek designers and other fashion specialists.
Outfits were announced as being inspired by "ancient dry winds," the storied Silk Road trade route, and "the special co-existence of the old ethnic traditions and modern Uzbek couture."
No attempt was made to answer to the protesters, who were simply ignored. But one figure close to the show, who asked not to be identified, said the pressure was "outrageous."
"This is not about politics," he told AFP. "This is a creative lab. This is the hard jobs of 60 people from a remote country."
He added that not a stitch of cotton had been used in Karimova's clothes. "It's 100 percent pure silk."
Enjoying champagne cocktails with dried apricots, marzipan, sugared almonds and other Uzbek treats before the show, the well-heeled crowd did not seem overly concerned.
"They should take the protest somewhere else. These are people celebrating an artistic show," said Olga Papkovitch, an artist. "This is about art, creativity. These people actually inspire, they inspire young people to create and to be someone when they grow up."
"The fact that this is going on does make you wonder about this beautiful setting," said student Neslihan Feradov, wearing black feathers in her elaborate hair-do and sipping a Bellini cocktail.
"But, though I hate to say it, there are a lot of things out there that are corrupt. Even coffee beans, or you can talk about diamonds."

by Sebastian Smith
Copyright © 2022 AFP. All rights reserved. All information displayed in this section (dispatches, photographs, logos) are protected by intellectual property rights owned by Agence France-Presse. As a consequence you may not copy, reproduce, modify, transmit, publish, display or in any way commercially exploit any of the contents of this section without the prior written consent of Agence France-Presses.