USA appoints 'Copyright Tsar'
Victoria Espinel has been named "Intellectual Property Enforcement Coordinatior" by the Senate of the United States of America; a new post which has delighted the American clothing industry and which has led to Ms Espinel being dubbed the "Copyright Tsar".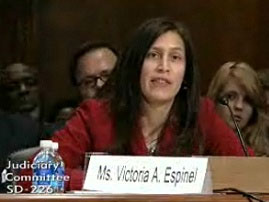 Photo: Senate Judiciary Committee
Formerly the head of the Intellectual Property division at the Office of the United States Trade Representative, Ms Espinel's mission will be to keep watch on the country's copyright laws as well as to represent the interests of American intellectual property rights overseas.
The creation of this new post has heartened the majority of American clothing professionals, with the American Apparel & Footwear Association welcoming the new Copyright Tsar's experience in the domain and stating its hope that this would mean a renewed fight against counterfeiting. Last year, more than 58% of goods confiscated by American customs officials were counterfeit clothing, shoes or accessories.
By Jonathan Fulwell (Source: Matthieu Guinebault)
Copyright © 2023 FashionNetwork.com All rights reserved.