US stores likely to hire more for holidays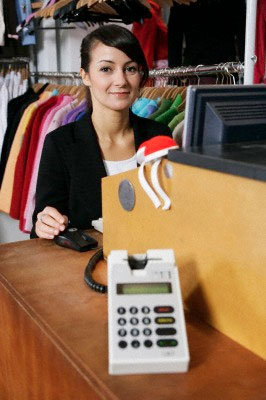 Photo : Corbis
NEW YORK, Sept 20 (Reuters) - U.S. retailers will likely hire more seasonal workers this holiday selling season, but the amount of temporary staffing still will not approach pre-recession levels, according to consultancy Challenger, Gray & Christmas.
U.S. retailers posted their largest sales gain in five months in August on strong receipts at gasoline stations and clothing outlets, easing fears of a double-dip recession.
On Monday, Deloitte forecast a modest 2 percent rise in holiday season sales as slow economic growth continues to keep household spending plans in check.
In its annual holiday hiring forecast, Challenger, Gray & Christmas said many retailers were likely to wait until the last minute and take on seasonal help in November and December. That would give them a better idea of demand ahead of the busiest shopping season of the year.
The trend echoes last holiday season when retailers aborted the traditional practice of seeking temporary workers as early as October.
Challenger, Gray & Christmas' CEO, John Challenger, sees the best opportunities for seasonal job seekers at discounters like Target Corp (TGT.N) and Wal-Mart Stores Inc (WMT.N), which he believes will attract many cost-conscious consumers this holiday season.
Outside retail, he sees good prospects at shipping companies such as United Parcel Service Inc (UPS.N) and FedEx Corp (FDX.N) and in areas like catering.
"There is still a lot of doubt about the sustainability of this economy," Challenger said in the report.
"Retailers do not want to be caught with too many workers ... There are still nearly 15 million Americans out of work and many have lost their homes or are struggling to hang on to them. This does not bode well for heavy holiday spending," he added.
Last year, retail payrolls grew by 501,400 workers in October, November and December, according to data from the Bureau of Labor Statistics.
That was a 30 percent increase from 2008, when holiday hiring fell to a 22-year low of 384,300 extra holiday helpers in the wake of the global financial crisis.
Holiday payrolls grew by 746,800 in 2006 and by 720,800 in 2007.
Despite the general uncertainty in the U.S. economy, Challenger urged holiday job seekers not to give up trying, citing recent improvements in the retail job market.
While retailers said they cut 89,242 jobs between January and August 2009, the total for the same period this year is down to 30,805, the report showed.
"Even if retailers are not ready to make hiring decisions until November, they may begin screening candidates much earlier," Challenger said.
Retailer Toys R Us Inc [TOY.UL] brought some cheer to the ailing job market by announcing plans to hire 10,000 workers to staff its new 600 Toys R Us Express temporary stores in the United States this year.
(Reporting by Dhanya Skariachan, editing by Matthew Lewis)
Copyright © 2023 FashionNetwork.com All rights reserved.