US retailers see consumers hit by higher prices
May 17 - Higher costs for gasoline, food and clothes are crimping the fledgling U.S. economic recovery, earnings reports from several retailers showed on Tuesday.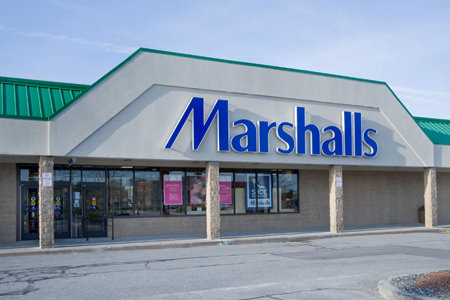 American department store chain Marshalls, owned by TJX Companies
Executives at industry leader Wal-Mart Stores Inc said their customers were showing pronounced signs of living paycheck-to-paycheck as sales at U.S. discount stores open at least a year have now fallen for two straight years.
"Rising gas prices, high unemployment and increasing inflation continue to be the most important issues facing our customers today," Bill Simon, chief executive of Wal-Mart's U.S. stores, said in a recorded message for investors.
Top home-improvement retailer Home Depot Inc said its key spring selling season had started out weak as the housing slump remains entrenched and cold weather cut into outdoor projects.
Even low-priced clothing retailer TJX Cos Inc reported lower earnings, although weakness in Europe and the closing of a business unit were more to blame. U.S. sales at stores open at least a year rose 4 percent at its T.J. Maxx and Marshalls chains.
"Customer traffic continues to be up over significant prior-year increases, which reinforces to us that value remains top-of-mind for consumers," said Carol Meyrowitz, chief executive officer of TJX, an off-priced retailer that buys excess merchandise and sells it at a discount.
Last week, the U.S. Labor Department said inflation had hit a 2-1/2 year high in April due to considerable increases in prices of food and fuel since March.
Also on Tuesday, computer manufacturer Hewlett-Packard Co slashed its profit outlook, hurt by a sluggish consumer PC market and the impact of Japan's earthquake and tsunami.
But there were some bright spots for retailers that cater to more well-heeled consumers.
Upscale department store operator Saks Inc reported a higher quarterly profit as it sold more items at full-price, saying a rebound in the financial markets had spurred sales of luxury goods.
Wal-Mart shares fell 0.6 percent to $55.72 in morning trading, while TJX was down 3.3 percent at $52.52. Home Depot rose 1.7 percent to $37.62, and Saks gained 0.4 percent to $11.31.
By Martinne Geller
(Additional reporting by Brad Dorfman in Detroit; Editing by Lisa Von Ahn)
© Thomson Reuters 2023 All rights reserved.