US charity uses 'choc' treatment to get poor kids to read
WASHINGTON, May 14, 2009 (AFP) - Scarlett O'Hara had her fair share of trials and tribulations in "Gone with the Wind," but nothing matched the problem she had in Washington this week: her bodice slid off at a charity event.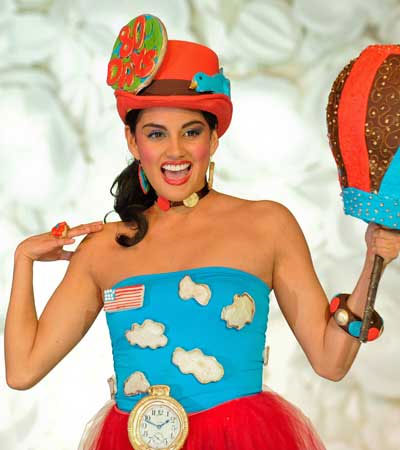 A model displays a creation inspired by Jules Verne's 'Around the World in 80 Days' made of chocolate and sugar in Washington. (AFP/Nicholas Kamm)
"I made it out of fondant, thinking I could mold it onto the model at the last minute," Carlo Figarella, pastry chef and owner of Bizcocho Cake Studio and the couturier behind the culinary costume told AFP.
"But I underestimated the effects of gravity -- it just pulled the fondant down."
Happily, the fondant for the model posing as O'Hara flopped backstage, before the show.
And happily, even though she wasn't able to strut down the catwalk at Washington's Mandarin-Oriental hotel clad in chocolate and sugary couture for the "Sweet Charity" event on Monday, organizers still managed to raise 100,000 dollars, which will go toward buying tens of thousands of books for needy children.
Figarella was one of more than a dozen top chefs from around the Washington area who dressed models in edible fashion for the charity event.
Maria Chaconas, pastry chef at Fancy Cakes by Leslie, dressed -- or rather layered, frosted and decorated -- her model as Mrs Aouda from Jules Verne's "Around the world in 80 Days."
The model wore a white chocolate hat, a chocolate and colored fondant hot air balloon, a white chocolate waistcoat and chocolate basket skirt, none of which melted in the heat of the spotlights on the catwalk.
Erin Vorgang, a former professional dancer with the Richmond Ballet in Virginia and now a pastry chef at Wolfgang Puck catering, dressed biblical characters Adam and Eve in fondant fig leaves and pastillage flowers, and sprayed chocolate on their bodies. Eve carried a chocolate apple. Adam had a US Marine Corps tattoo.
Heidi, the character from Swiss folklore, cavorted down the catwalk in a dark chocolate dirndl with white chocolate accents and an apron made of, you guessed it, more chocolate.
And to top off the sugar rush, she carried a chocolate goat in an edible basket.
Heidi was dressed by Ann Brown and Jean Smrcka of Miriam's Kitchen.
Outside the packed ballroom where the white catwalk was being littered with bits of fondant and sugar jewelry that fell off various costumes, some 45 chefs and chocolatiers from the Washington area had set up stands and were handing out free samples to benefit the Heart of America charity, which promotes reading among America's poor children.
Nenad Stefanovic, executive chef at the Dupont Hotel, fed green grapes dipped in chocolate to revellers who swarmed around his stand like honeybees at the hive.
Randy Olmstead, owner of The Perfect Truffle in Frederick, Maryland, lapped up praise for his dark chocolates with wasabi ginger filling, as Amanda Shafer, owner of The Artful Cake who shared Olmstead's stand, assured sceptics of the delights of the flavor combination.
"Sweet Charity," the only gala fundraising event organized by the Heart of America, is in its fifth year.
"What makes this charity event so sweet is people coming together and giving the gift of what they do," Heart of America co-founder Bill Halamandaris told AFP.
"These chefs give their best every day and here they are doing it for people who can't be in this room, for kids who, with any luck, will be able to make a place for themselves in society.
"If you're going to do anything in life, you have to be able to read, and when we did research, we found that children who live in poverty have on average two books at home to read and about 60 percent of them don't have any books at all," Halamandaris said.
"By giving them something to read, encouraging them to read, and facilitating that process, we aim to develop the skills these kids need to become productive members of society, and we do it from the bottom up."
Or, in the case of Scarlett O'Hara, with the fondant falling down. by Karin Zeitvogel
Copyright © 2023 AFP. All rights reserved. All information displayed in this section (dispatches, photographs, logos) are protected by intellectual property rights owned by Agence France-Presse. As a consequence you may not copy, reproduce, modify, transmit, publish, display or in any way commercially exploit any of the contents of this section without the prior written consent of Agence France-Presses.