US chain store sales seen up; gas prices lurk
March 1 - February sales numbers that top U.S. chains report this week will be the first sign of shoppers' ability and willingness to pay more for clothing and household items now that gas prices are rising.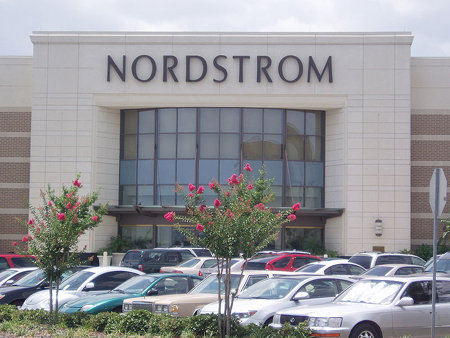 The exterior of a typical Nordstrom department store at The Florida Mall located in Orlando, Florida.
More than two dozen U.S. store chains, from high-end department stores Nordstrom Inc and Saks Inc to discounters Target Corp and Costco Wholesale Corp will report February sales on Wednesday and Thursday.
Wall Street analysts expect same-store sales -- sales at outlets open at least year -- rose 3.8 percent last month, according to Thomson Reuters' Same-Store Sales Index.
The International Council of Shopping Centers expects February chain store sales to be up 2.5 percent to 3 percent.
Stores should get a boost from the severe winter storms that plagued much of the country in late January and forced shoppers to postpone purchases into February.
But gasoline prices have begun climbing, after tumult in Libya sent oil prices to 2-1/2 year highs last week, and could severely dent sales this spring.
How much gas prices go up will determine whether retailers' shares, which have stalled since December, resume their climb.
"We believe sales have improved more than the stocks reflect," Credit Suisse analyst Gary Balter wrote in a research note on Monday. "Assuming oil finds its way back down, (this) positions this group for a mini-rally."
The Standard & Poor's Retail Index is up 0.2 percent this year, while the broader S&P 500 is up 5.2 percent.
By Phil Wahba

© Thomson Reuters 2022 All rights reserved.