US appreciates Latin American accessories
New York, 17 June (EFE) – Latin American designers are more and more valued in the United States, which hedges it bets on accessories, gaining ultimately the respect of the fashion industry in such competitive markets as New York.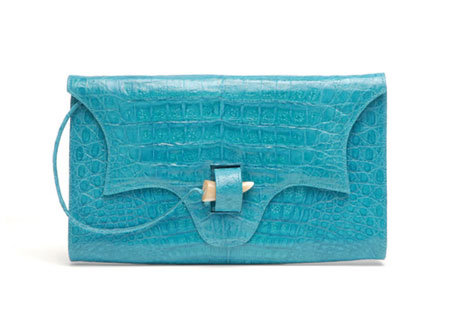 Adriana Castro
Americans' admiration for bags and purses from Columbian and Mexican designers increases and records every day more success stories from those that decide to try their luck in this country; the previous last "Independent Handbag Designer Awards" demonstrates this performance and awards the accessories' design.
The awards' fourth appearance, celebrated this week in New York, saw various designers from latin American origin nominated for some prizes that aims to help young independent creators and finally rewards the designs of a Columbian Verónica Suárez and a Uruguayan brought up in Mexico Dalia Pascal.
Both will transform themselves, together with other designers from other places in the world, awards were given for a number of people in the New York fashion industry, like the Brazilian Carlos Falchi, and a total of six Latin American aspiring designers.
The third time round of this same prize-giving awarded the Columbian Adriana Castro, whom from then has enjoyed a growing career that has put her handbags into the famous hands of Jennifer Lopez and Eva Longoria, and includes an appearance in the "Sex And The City 2" film.
"Adriana is a born-worker and we are very proud of what she has pursued with her handbags", Efe the founder and director of the awards explained, Emily Blumenthal, who explained that this year the ceremony has received a thousand proposals."
The founder emphasized that the Latin American presence at the prize-giving offers "a great creativity that breathes Latin America" and also the fact that "the family usually relies so much on the designers, so that they start a business and make something special of their life".
The columbian Verónica Suárez, that lives in Los Angeles, gaining one of the most important awards, became very popular amongst the public that chose, through a poll of 200,000 people on InStyle magazine's website, one of her handbags as the best in comparison with all the bags presented.
"I am really happy. I think I won because of the bag's simplicity, it can be used day or night and offers exotic leathers that are very fashionable" Suárez confirms in the Efe interview where she specifies she is only dedicating one year and a half to design with her company Verónica S;
The bags that contain leather pieces of fabric, with markings that imitate the texture of crocodile skin and gold-plated hardware, are made in Columbia, where Suárez at only 20 years old, employs a group of single mothers to manufacture her designs.
Her family came to the States "without speaking a world of English", and her mother started to sell jewellery, that she made herself, in the street, so her intention became from the very beginning, according to the Columbian's memories, to help others with her business.
From a social point of view, Latin American designs seem inherent, given that Dalia Pascal, born in Uruguay but brought up in Mexico for many decades now, brought to the awards the most socially compromising bag, since her creations are produced by means of a programme for Mexican mistreated women.
"It's about women in the Chiapas region that use to be hit by their husbands and want to be in the textile industry, including the cleaning and recycling of used clothing to turn them into our pieces" Pascal explained, who at 48 years old is so excited to have achieved her dream of deceased father "success in new York".
Pascal, who also designs jewellery and foresees launching a concise line of footwear defined her bags as full of colour, like designs "with a very Mexican influence, since we take pieces that already exist in the Mexican traditional artisan and transform them into fashionable yet classical and ecological accessories".
Also awarded in the same category was her sisters Zoé and Cristina Suárezn thanks to some designers that, according to Efe, are "classic, but with a modern touch that bestows colours and contrasts that they use", and also are produced my working mothers from Columbia.
Another Columbian, Ana Maria Plata, also got a nomination with her firm Leonor, just like the Brazilian Christiane Valdez, manager of La Chica Chic, who left without an award.
All the winners will take part in September's issue of InStyle, one of the most popular fashion magazines in the US.
© EFE 2021. Está expresamente prohibida la redistribución y la redifusión de todo o parte de los contenidos de los servicios de Efe, sin previo y expreso consentimiento de la Agencia EFE S.A.