Up to Xstrata to improve Anglo offer
LONDON (Reuters) - The board of Anglo American (AAL.L) would surely consider a merger proposal from Xstrata (XTA.L) at a price that recognized Anglo's top-tier assets, major Anglo shareholder Old Mutual said.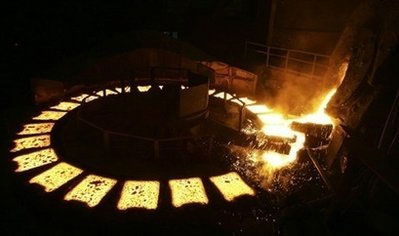 Photo: AFP/File/Maxim Marmur
But if Xstrata stuck to its "merger of equals" plan, Anglo would be better off remaining independent, Anwaar Wagner, portfolio manager at Old Mutual Investment Group, told Reuters in an interview.
Old Mutual (OMLJ.J) (OML.L), South Africa's largest insurer, has a stake of 3 percent in Anglo, which has rebuffed Xstrata's approach as "totally unacceptable."
"I think it's really up to Xstrata whether they want to come back with an improved proposal that's more acceptable to Anglo American shareholders," Wagner said in a telephone interview from Cape Town late on Friday 3 July.
"If the price adequately compensated for the significant dilution of Anglo American's unique exposure to the structurally attractive platinum, coking coal, iron ore and diamond markets, I'm sure the board would consider it."
He declined to say what level of premium would be acceptable.
Xstrata has defended its "nil premium" merger idea, arguing both companies' shareholders would share in what it estimated as $1 billion in synergies, but Wagner said he was prepared to wait for Anglo's own cost-cutting plans to bear fruit.
"Either way, we're happy. We're happy to wait for the value in Anglo to be unlocked over time as a standalone entity and if Xstrata decides to present an attractive offer we will evaluate that as well."
UNDERVALUED
Anglo is "significantly undervalued" due to the scope to increase profits from its own plan to unlock $2 billion in cost savings, its growth projects and attractive industries it is exposed to, he added.
According to media reports, some shareholders have been unhappy with Anglo's management, but Wagner said restructuring a big, complex group takes time.
"It's a really large company, and we're just as eager as everybody else to see more improvements and sooner rather than later, but you have to give the current management team a reasonable chance to execute the improvements they have initiated ... during this transition."
Wagner said he hopes Anglo will find a partner for its big MMX iron ore project in Brazil. Anglo has been considering such a plan, sources familiar with the situation told Reuters last week.
"They've got so many fantastic projects, so if they could find a co-investor for MMX, not only could they bring forward that project, they could bring forward the highly profitable copper and nickel projects as well."
Wagner said Anglo's new copper and nickel projects have cash margins based on current metals prices and estimated costs of over 200 percent and 60 percent, respectively.
A merger with Xstrata, the world's biggest exporter of coal for power plants, would create a group worth $68 billion based on Friday (3 July)'s closing share prices.
The group would have added bulk to compete against sector No. 1 BHP Billiton (BLT.L) (BHP.AX) which is valued at $137 billion and Rio Tinto (RIO.L) (RIO.AX) at $74 billion.
A combination of the two firms would create the world's biggest producer of zinc, platinum, diamonds, coal for power stations and ferrochrome and second biggest in coal for steelmaking and copper.
(Reporting by Eric Onstad; editing by John Stonestreet)
© Thomson Reuters 2023 All rights reserved.