UK's Goldfrapp ambivalent about hip-hop, Madonna
By Christine Kearney
NEW YORK (Reuters) - They are credited with influencing the fashion style of Madonna but British electronica band Goldfrapp don't have much time for the pop diva or other big acts they will be playing with this summer.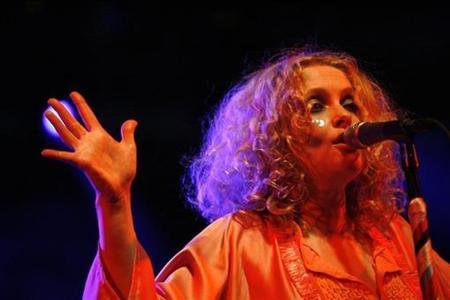 Grammy-nominated Alison Goldfrapp and Will Gregory, whose fourth album "Seventh Tree" hit No. 2 in Britain in February, will share the big stages at two outdoor British music festivals with hip-hop mogul Jay-Z and Madonna.
"I think her fearlessness is amazing but I don't have particularly any admiration for her work," Goldfrapp, dressed in tight blue jeans, a shirt and sunglasses that were never removed, told Reuters in a recent interview.
On Sunday, the group -- acclaimed for their breadth of musical styles that canvas anything from pop to dance to glam rock -- kick off a tour of European concerts and summer festivals starting at BBC's Radio 1 music festival, where Madonna is also performing.
The straight-talking Goldfrapp will also be mixing with Jay-Z at Glastonbury, which has been criticized for straying from its roots by featuring the rapper as one of its top acts.
"People don't want it to become Americanized or kind of different, where you can't just wander around any more sort of half-naked with mud over you. I can see, understand that," Goldfrapp said about world's biggest open-air music and arts festival, which she dubbed "an English institution."
"I understand why people might start getting nervous that it will slowly wipe out the eccentric hippies ... Hip-hop is really conventional, I think," she said. "It's quite flashy, it's a lot about money, money."
Gregory, who hails from Bristol, England -- famed for breeding other electronic groups such as Massive Attack and Portishead -- said hip-hop was "about being wealthy, wearing a lot of jewelry" and was likely taken on due to Glastonbury's ever-growing reach.
"Now it's like Wimbledon, getting this global TV coverage," said the keyboardist. "And with that presumably came some extra pressure to conform to whatever market or youth culture."
Goldfrapp are touring after releasing "Seventh Tree," a departure in style from their previous two albums, including 2005's dance album "Supernature" that earned them two Grammy nominations.
They recently appeared on stage in New York -- Alison Goldfrapp in a pink cape, barefoot and with wild curly hair after a recent image change -- in the same week as Madonna, whose live shows and pink leotard worn on the cover of her 2005 album "Confessions on a Dance Floor" prompted numerous comparisons to Goldfrapp's image.
But Goldfrapp's new earthier look, which she says has changed "quite radically," is in keeping with the lower-key "Seventh Tree," recorded in Bath, England and featuring her signature soft vocals.
In the single "A&E," which topped the U.S. Billboard dance singles chart and peaked at No. 9 in Britain, she sings "I was feeling lonely, feeling blue," but she said turmoil is not necessary to writing good songs.
"When you suffer real turmoil you are disabled and that is terrible," she said. "Of course eating cake and tea all day and living the life of Riley is not stimulating either."
(Editing by Michelle Nichols and John O'Callaghan)
© Thomson Reuters 2023 All rights reserved.