UK retailers blame snow for lost Xmas sales
Jan 6 - The severe winter weather that gripped Britain in December sent a fresh chill through the retail sector on Thursday as more firms reported a snow-related impact on their business.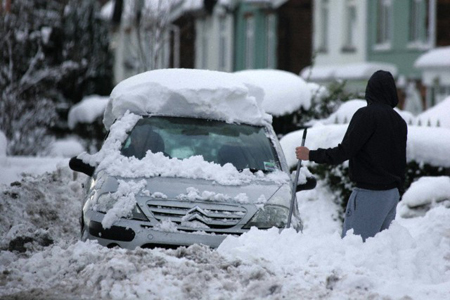 Photo taken in Lincolnshire, UK, 02 December 2010
British mother and baby products retailer Mothercare, greeting card retailer Clinton Cards, and McBride, Europe's biggest maker of retailer own-brand cleaning products, all said they struggled in December.
The month was the coldest December since records began in 1910.
On Wednesday, British fashion chain Next had blamed the weather for a 6.1 percent drop in underlying sales at its shops in the 21 weeks to Dec. 24, while music, books, DVD and games group HMV also said it was a factor behind its latest profit warning.
Thursday's downbeat updates came as a major survey said large swathes of Britain's service sector suffered their first fall in output since April 2009 last month, pointing to a sharp slowdown in economic growth at the end of 2010.
Britain's largest recruitment agency Hays also reported a flat UK market in its second quarter, dragged down by a slump in public sector activity.
After battling December's snow many retailers fear the 81 billion pounds ($125.7 billion) of spending cuts announced by the government last October, as well as tax rises, a slowing housing market and hikes in transport and fuel costs will hit consumer demand in the months ahead.
Mothercare warned underlying pretax profit for the year to end-March 2011 will not meet current market expectations after sales at stores open over a year fell 5.8 percent in the 12 weeks to Jan. 1, its fiscal third quarter.
It estimated the weather disruption reduced UK like-for-like sales by about 4 percent, with toy sales particularly affected.
Joint house broker Numis Securities cut its profit forecast by 13 percent to 34.6 million pounds.
Shares in Mothercare were down 6.6 percent at 568 pence at 1206 GMT as continued strong growth overseas failed to offset the disappointment in the UK.
Analysts said the weather was masking the more significant longer term issues retailers like HMV and Mothercare were facing in the UK in terms of their strategic positioning and the competition they face from supermarkets and the Internet.
Arden Partners analyst Nick Bubb said he left a conference call with Mothercare management with "an uneasy feeling that there was more to the poor December sales than just the snow."
Finance director Neil Harrington denied the charge, telling Reuters: "There isn't a structural problem affecting the UK business ... If you strip out the snow affected weeks we've had a pretty decent Christmas."
UNHAPPY RETURNS
Clinton Cards, which runs the Clintons and Birthdays chains, said it expected year to end-July 2011 pretax profit to be "significantly lower" than current market expectations, after its hopes of a strong festive trading period were hit by the prolonged cold snap.
Its like-for-like sales fell 2.1 percent in the five weeks to Jan. 2.
Numis analyst Andy Wade slashed his profit forecast by 47 percent to 7 million pounds.
Shares in the firm were down 8.9 percent to 25.75 pence.
McBride, Europe's biggest maker of retailer own-brand cleaning products, said its full-year performance could be towards the lower end of its expectations due to a tough retail outlook, particularly in the UK.
Investec analyst Nicola Mallard cut her profit forecasts for fiscal 2011 and 2012 by 3 million pounds to 35 million and 40 million respectively, warning branded manufacturers might respond to a sluggish retail environment by cutting prices.
Shares in McBride were down 5.9 percent at 172.8 pence.
With the macro outlook grim there was some evidence British shoppers took solace in drink as the cold weather bit.
British wine warehouse chain Majestic Wine posted a 3.7 percent rise in underlying sales in the nine weeks to Jan. 3.
CEO Steve Lewis told Reuters the firm saw strong sales of New Zealand Sauvignon Blanc and a resurgence of classic French wines, Bordeaux, Burgundy and Rhone.
By James Davey and Mark Potter
(Editing by Mike Nesbit)
© Thomson Reuters 2023 All rights reserved.