UK must do more to welcome Chinese: Fashion chief
Yin Qi Du adjusts her cream Gucci bag as she waits for the Selfridge's assistant to bring out another designer handbag for her perusal.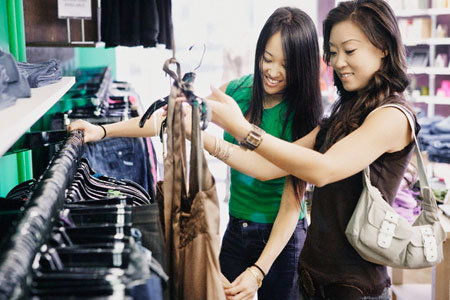 Young women shopping (Photo: Corbis)
She inspects it carefully, admiring the leather, the workmanship and discreet logo before shaking her head. It's not quite the color she was looking for.
Like many young Chinese shopping on the British high street, Du arrived in London to study. But unlike your average student, she's not pinching pennies--she's here to spend, and spend big.
British Fashion Council Chairman Harold Tillman said on Friday that Britain should be doing more to encourage Chinese shoppers like Du to visit, and more importantly shop in, the capital.
"We're going to cut through the difficulties the Chinese are undertaking to obtain a visa to this country," Tillman told Reuters at the kickoff to London Fashion Week.
He has been asked to lead a committee that is tasked with finding a solution to the delays in visa applications for Chinese visitors to Britain, where only one visa is granted for every nine that the French government issues.
"There is a percentage, multi-billion pounds worth of more shopping we can create here," he said. "It's something I'm really keen to do."
As Europe tightens its purse strings in response to a euro zone debt crisis, Chinese consumers are inadvertently stepping in to help buoy the European economy.
The average spend of a Chinese customer on a single transaction in London during January to October last year was 1,058 pounds ($1,700), 10 times the average spend of the equivalent British shopper.

HEY BIG SPENDERS

Wearing a dark grey jacket embellished with feathers and black trousers, media student Du represents a growing army of Chinese shoppers in London who are mad for British brands.
"I love Vivienne Westwood and Burberry...they really have their own unique style," said Du.
Money is no object for many Chinese shoppers, who have become a common sight strolling the polished floors of posh London department stores such as Liberty, Harvey Nichols and Harrods.
"The Chinese have proven to have an insatiable appetite for luxury goods and will go to great lengths to own the latest bag, coat or watch," said Julia Carrick, chief executive of Walpole, the organization representing the British luxury industry.
The high tariffs imposed on luxury goods in China, a wariness of counterfeit goods and a better choice of products on offer abroad see Chinese shoppers flock to Europe in search of a bargain, and earning a little extra cachet back home for actually buying a bag from a European designer in Europe.
"If I'm buying famous brands I always do it in England. It can be up to half off in terms of price, that's why Chinese people are always coming here to buy brands," said fashion design student Li Fang.
Many British businesses have been responding to the influx of wealthy Chinese consumers by learning traditional customs of handing a credit card back with two hands instead of one.
Louis Vuitton, Harrods and Harvey Nichols all hire Mandarin-speaking staff to help accommodate their Chinese customers. Other stores like Selfridges now allow for their shoppers to use UnionPay, the only domestic Chinese debit and credit card.
Enhancing links with consumers in mainland China is also a priority.
Value Retail, the owner of designer discount outlet Bicester Village, where top labels are always on sale at discount prices,
has plans to open another value village in Suzhou in China to strengthen its presence in Asia.
BFC's Tillman also forged a Britain-China alliance last year, which saw him take British designers to showcase their collections in Hong Kong. This year he plans to bring even more designers to show in China.
Tillman sees his mission as tearing down a "Great Wall of red tape" between Britain and the army of free-spending Chinese consumers who haven't quite managed that trip to Britain yet.
"They want to come in. I've just got to get through the system, and make it simpler."

By Li-mei Hoang and Ethan Bilby
(Additional reporting by Michelle Martin; Editing by Paul Casciato)
© Thomson Reuters 2023 All rights reserved.