UK manufacturing skills a lure for luxury brands
LONDON - Britain's fashion manufacturing is experiencing a revival as luxury brands clamour to have their products made in a country known for its quality craftsmanship, heritage and history.
Labels such as Chanel, Louis Vuitton and Prada are making a beeline for Britain's wool, footwear and leather factories, which are renowned for their specialist expertise in producing quality goods.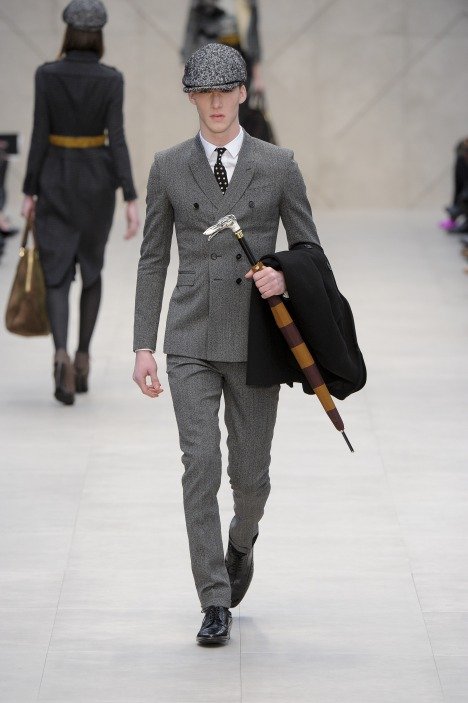 Burberry Prorsum - AW 2012/13 / Photo: Pixel Formula
"There is something about made in England, it's not just Chinese visitors (who love British-made products), it's throughout continental Europe, America. It's just something we're gifted by, having Made in England," British Fashion Council Harold Tillman told Reuters.
Renewed interest in manufacturing high-quality specialist products has seen a growing number of British designers explore their local options and help to fund apprenticeships to keep the industry growing, a welcome change after 15 years of steady decline.
Burberry, Mulberry, Victoria Beckham and Tillman's own Aquascutum and Jaeger brands all happily sew "Made in Britain" on their products.
"Everybody's doing what they possibly can here," Tillman added. "There are retailers as well, large retailers like Topshop and River Island. They manufacture in the UK, so it's going in the right direction."
Mulberry has pledged to keep at least 30 percent of its production in the UK, runs an award-winning apprenticeship scheme and recently announced plans to invest 2 million pounds to expand its factory in Somerset.
Likewise, Burberry runs an apprenticeship scheme at its Castleford factory in North Yorkshire where it manufactures all of its trench coats. The company says it seeks to retain its British connection and heritage, and currently employs 3,000 people in the UK, with two-thirds of products globally being made in Europe.
Designer Alice Temperley attributes the success of British brands who manufacture in the UK down to their heritage and quality.
"We have heritage to delve into that we can pull from and that gives it a sense of romance, and sort of nostalgia," Temperley told Reuters. "It's nice to buy into something that sort of seems like it's got a story and with heritage, comes a feeling of quality."
Burberry Creative Director Christopher Bailey told Reuters that the patina of age provided a certain sense of security.
"There's a safety with something that's familiar and heritage and things that have been around for a long time and I think it makes you have some security which I love, and I think people love that," he said.
Designer Paul Smith told Reuters that fashion manufacturing in Britain also needed to be as modern as possible in terms of sampling clothes quickly and efficiently to be globally competitive, adding that change would be gradual.
"The government have given a lot of grants for investments into the most modern laser cutting or computer-aided equipment, so it's a tough call because it's not something that can happen overnight," Smith said.
The British Fashion Council has also proposed that fashion graduates undertake mandatory placements with key manufacturers in Europe, and launched a report exploring what could be done to secure the future of British fashion.
Young designers such as J.W. Anderson and Sophie Hulme produce all their clothing collections in Britain.
But Hulme told Reuters that the UK is in danger of losing its specialised skills as factories lack young people seeking to take over from the existing generation of craftsmen.
"They're not training anyone younger than them," Hulmes said. "It's nice to keep it here and fairly local and you can keep control on it and I like to get to know the people making the clothes, so you have a bit of a relationship with them, which I think makes a real difference." (Reporting by Li-mei Hoang, Editing by Paul Casciato)
© Thomson Reuters 2023 All rights reserved.