UK B2C Ecommerce: Consolidating the Gains
Research and Markets has announced the addition of eMarketer's new report "UK B2C Ecommerce: Consolidating the Gains" to their offering.

This report estimates that over two-thirds of UK internet users ages 14 and older will buy something online at least once per month in 2010. Between 2011 and 2014, the number of monthly online buyers will rise from 27.2 million to 30.8 million.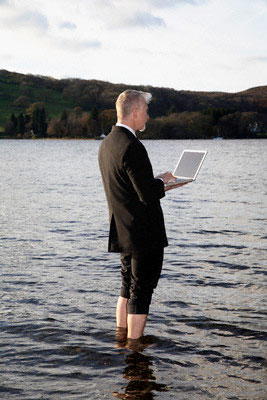 Businessman with laptop standing in Lake Windermere, Cumbria, England. Photo : Corbis
Against a background of economic uncertainty, UK business-to-consumer ecommerce sales including travel grew 14% in 2009, to 49.8 billion ($78.2 billion), the Interactive Media in Retail Group reported. Online sales growth will continue to outpace growth in overall retail sales in 2010 and 2011, as more shoppers use the web to save time, stretch their pennies and buy items not readily available in nearby physical stores.
Books, music and films were among the items most often bought online in 2009, but clothing, consumer electronics and groceries were also popular purchases. The categories gaining most in 2009 included holidays and travel, event tickets, footwear, womens clothing, and food and drink, according to the Royal Mail.
Mobile commerce has barely taken off, however. Verdict Research calculated that 2.1% of UK adults used the mobile web to shop in 2009. As a result, m-commerce purchases amounted to just 0.6% of total retail ecommerce sales, or 122 million ($192 million).
UK online shoppers admit to having become more demanding. As multichannel retailers leverage their physical infrastructure to cut costs and improve customer service, pure-play merchants also need to innovate and fine-tune their value propositions.
Key questions this report answers:

* How many UK internet users are shopping and buying online?
* How much do UK web users spend on the internet?
* How does the level of online spending in the UK compare with that in other European countries?
* How are consumer attitudes to multichannel buying evolving?
* How quickly is mobile commerce developing in the UK?
Please visit full report at Research and Markets
Copyright © 2023 FashionNetwork.com All rights reserved.