U.S. luxury, dept stores set for Xmas bounce
Oct 27 (Reuters) - Luxury and department stores will be the biggest beneficiary of expected growth in the U.S. retail market this holiday season, according to the head of the National Retail Federation.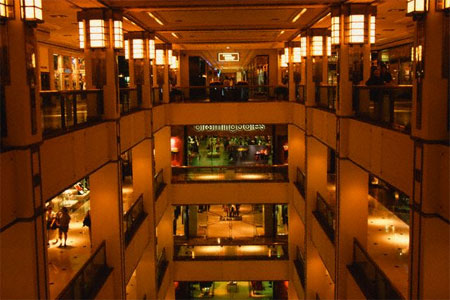 Bloomingdales, Chicago. July 1997
Matt Shay, speaking at the World Retail Congress in Berlin, said on Wednesday consumers were still looking for value, but that they were now basing this on quality and service, rather than just price, as they had done for the past two years.
Shay added that consumers were also looking for discretionary purchases, rather than just practical gifts.
"Department and luxury stores are clearly going to benefit more this year. We're seeing jewellery and apparel as items people want on their holiday shopping list."
Earlier this week, the CEO of upmarket U.S. department store chain Bloomingdales (M.N) said it was enjoying a good fall season, led by accessories and jewellery.
The National Retail Federation's survey on the Christmas shopping season in the U.S. showed that sales are expected to rise 2.3 percent this year.
In a separate interview with Reuters Television, Shay said it was possible some of this improvement would continue into 2011, despite lingering uncertainty on economic conditions.
"We're hopeful that as we move through the holiday season that we will keep some momentum as we move into next year."
(Reporting by Victoria Bryan and Eva Kuehnen; Editing by Mark Potter)
© Thomson Reuters 2022 All rights reserved.