U.S. clothing makers get creative in cotton spike
(Reuters) - From Modal to viscose, expect more fibre blends and synthetic fabrics on clothing store shelves next year as cotton prices continue their unrelenting rise.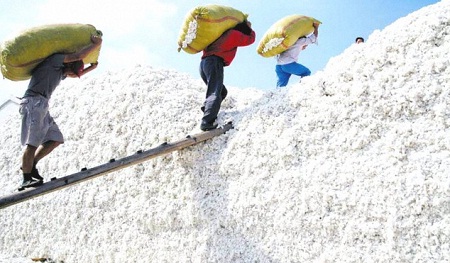 Record cotton prices endanger China textile maker survival.
Manufacturers have warned for months that a global cotton shortage, exacerbated by speculation buying, would cause prices to skyrocket and result in retail price rises of up to 15 percent by late 2010 or early 2011.
The price of cotton on the ICE Futures U.S. exchange soared on Wednesday to a record high at $1.392 per pound.
Despite the warning, Jones Group Inc shocked Wall Street last week as it blamed a third-quarter profit miss on cotton costs. Shares of the company behind Jones New York and Gloria Vanderbilt fell nearly 22 percent despite Jones saying price rises would mitigate the hit to margins.
But given people's unwillingness to pay higher prices as unemployment remains high and the economy limps along, some see tinkering with the product line as a better solution.
"It's going to come down to engineering that fabric better," said Kurt Salmon partner Jeremy Rubman.
Clothing makers and retailers, he said, are looking at product lines, taking a more active role in fabric design and asking, "What's driving the cost in it and how can I guide my vendors to do that better?"
If done skilfully, consumers will not notice the difference, experts said.
"Instead of having five-pocket jeans, you have jeans with two pockets, or sweatshirts without hoods. And so margins can be played with that way," said Jane Ganes of Ganes Consulting, speaking on a recent Credit Suisse call. "That's another form of rationing of supplies and stretching the existing supplies."
But swapping synthetics for cotton is not necessarily a "silver bullet," as Rich Noll, CEO of underwear maker Hanesbrands said recently, because of the similarly rising cost of those fibres.
"Polyester suppliers see what's happening and they're just going to continue to drive prices up," Noll said, citing projections for another 25 percent rise in polyester prices, which currently cost about 90 cents per pound.
That means even companies that rely less on cotton and more on synthetics, like fast fashion player Forever 21, will face cost pressure too -- though not to the same degree.
Although price increases are expected to hit industry-wide because of inflation affecting a broad swath of costs from labour and transport to raw materials, some items in stores will bear the brunt of higher prices.
Fleece prices will go up more than T-shirts, while items in department stores, which use finer yarns than seen in mass-market channels like Wal-Mart, will also see a bigger rise in prices, said Hanesbrands CFO Lee Wyatt.
Prices have risen to record highs, fuelled by tight stocks in Asia, strong demand and frenzied buying by speculators, mills and investment funds. That came after a three-month long rally where prices rose nearly 80 percent since July.
The Mississippi Historical Society says these record levels have not been seen since the U.S. Civil War.
TWILL IS IN
Hardest hit will be clothing manufacturers whose brands shoppers simply will not buy if they aren't already on sale or available at a discount. Whereas consumers may be willing to pay more for top brands that raise their prices, they will overlook ho-hum offerings at higher prices.
Moreover, retailers can pick and choose what they stock.
"When you look at someone who lives in the moderate area like Jones does ... it's easily substitutable product. You don't have the brand equity to say (to stores): 'Carry this!'" said Kurt Salmon's Rubman.
A retailer that designs its own clothes and sells them in its own stores, such as J Crew or Gap Inc, has better opportunity to deal with price pressures from the beginning by customizing fabrics and designs, he said.
Such "collaborative and forward-thinking" companies can say: "We have 100,000 yards of (cotton) jersey. Let's figure out what to do with it,'" he said. "Or, 'We have twill. Use twill.'"
The chief executive of VF Corp, which owns a portion of its production and thus has more options than other manufacturers, recently cited that ability to adapt.
"We have all kinds of flexibility in terms of the styles we make and how we make them," said Chief Executive Eric Wiseman.
The good news is that retailers and manufacturers alike expect some moderation in cotton prices next year.
"As it goes higher and higher, it looks like it will never end ... but that's not the way commodity markets function," said consultant Ganes. "Spike markets typically don't last for an extended period of time. They might be painful when they're happening ... but they do come to an abrupt end."
Ganes said that the cotton market will gain more confidence after seed is purchased early next year and then planted.
Then clothing makers and retailers will be waiting to see whether fabric mills -- who are hesitant to incur inventory risk -- ramp up production.
"Are the mills going to ramp up their capacity in order to bring the fabric prices down?" asked Rubman. "If they don't, any changes in cotton prices won't matter much."
(Reporting by Alexandria Sage. Additional reporting by Rene Pastor. Editing by Robert MacMillan)
© Thomson Reuters 2023 All rights reserved.