Truworths sees H1 EPS up 12-17 pct on higher sales
* Says H1 EPS expected to rise 12-17 pct
* Sales up 9 pct to 3.42 bln rand
* Profit, excluding extra week impact, seen up 20-25 pct
* Figures in line with expectations
(Adds background, shares)
By Rebecca Harrison
JOHANNESBURG, Jan 15 (Reuters) - Clothing retailer Truworths International Ltd (TRUJ.J) said on Thursday it expects to report a 12-17 percent increase in first-half earnings per share (EPS) as new stores and higher prices boost sales.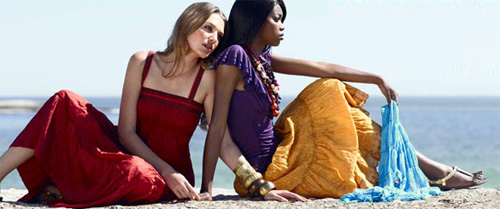 www.truworths.co.za
Truworths, South Africa's largest listed clothing retailer, said group retail sales in the 26 weeks to Dec. 28 rose to 3.42 billion rand ($342.8 million), up 9 percent compared with the 27-week period to Dec. 30 2007.
Excluding the impact of the extra week last year, basic EPS and headline EPS would increase 20-25 percent and sales would be up 13 percent, or 7 percent on a same-stores basis.
Headline EPS is the main profit gauge in South Africa and strips out certain one-off, financial and non-trading items.
South African retailers have been struggling as consumers in Africa's biggest economy rein in spending to cope with relatively high interest rates and inflation.
But higher prices and new stores helped offset a tough trading environment at Truworths, which often outperforms other mid-range retailers thanks to its range of store chains and strategy of getting fashion trends quickly onto the high street.
The Truworths numbers add to signs that Christmas trading in Africa's biggest economy may not have been as bleak as expected, as supermarket Shoprite (SHPJ.J) and clothing and homeware company Mr Price (MPCJ.J) have reported buoyant sales figures.
"The numbers are very much line with expectations," said Dean Ginsberg, a retail analyst at Citigroup. "The reality is that they are trading OK and Christmas certainly seems to have been better than some people were expecting."
Truworths shares dipped 0.65 percent to 35.22 rand by 0812 GMT but outpaced a weaker Johannesburg Mid-Cap Index .JMIDC.
Truworths' main rival Foschini (FOSJ.J) is due to report its December quarter sales numbers on Friday.
Figures from the biggest retailers are likely to be closely watched for signs of how the South African economy is holding up, as a consumer recession increases pressure on the central bank to cut interest rates further.
South African retail sales fell for the sixth month in a row in October, likely helping to influence the central bank's decision to cut its interest rate by 50 basis points to 11.5 percent in December. Economists expect more aggressive cuts this year.
Truworths said prices for its products rose 6 percent during the period and trading space increased by 11 percent.
Retailers at the top and bottom end of the market are faring better than mid-level shops, and analysts said Truworths was likely helped by its cheap Identity chain and higher end Daniel Hechter shops.
Truworths will unveil its interim results on Feb. 18. ($1=9.962 Rand) (Editing by Karen Foster)
© Thomson Reuters 2023 All rights reserved.