Trial ordered over aged L'Oreal billionaire's gifts
By Estelle Shirbon
NANTERRE, France (Reuters) - A French celebrity photographer will face a criminal trial over accusations that he extorted gifts worth 1 billion euros (899.3 million pounds) from the elderly heiress to the L'Oreal fortune, a court ruled on Friday 11 December.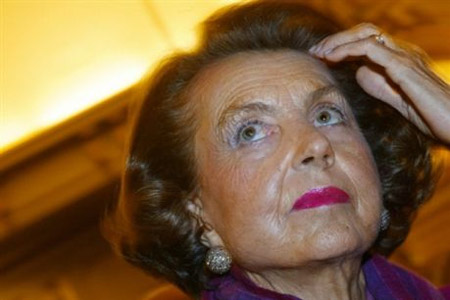 Liliane Bettencourt - Photo : Joël Saget/AFP
Liliane Bettencourt, 87, one of the richest women in the world, says she was in full possession of her wits when she lavished cash, properties, artworks and life insurance on her close friend Francois-Marie Banier, 62, over several years.
But her daughter, Francoise Bettencourt-Meyers, says Banier took advantage of her mother's declining mental faculties. The daughter has been fighting for two years to have Banier charged with "abuse of weakness," against her mother's will.
Both women are major shareholders and board members at cosmetics giant L'Oreal, though they are not on speaking terms.
"Should a daughter who sees her weakening mother under the power of a predator, a man doing everything he can to break the bond of filial love, say nothing, do nothing?" lawyer Olivier Metzner, representing the middle-aged daughter, asked the court.
Georges Kiejman, representing Bettencourt, hit back that the old lady, though deaf, was so alert that Metzner would have trouble keeping up with her witty repartee.
"I am here to say on behalf of Mrs Bettencourt: 'That's enough! I am not a vegetable. You will not bend me to your will'," Kiejman told the court in the Paris suburb of Nanterre.
SOUL MATE
The hearing was called to examine whether the allegation by Bettencourt-Meyers was enough to bring Banier to trial, given that state prosecutors had previously declined to press charges.
One of the reasons why prosecutors have been reluctant to take up the case is that Bettencourt has repeatedly refused to submit to an independent examination of her mental health.
Judge Isabelle Prevost-Deprez ordered Bettencourt to submit to tests by three named neurological and psychiatric experts who were required to produce a report on her mental faculties by March 10. The judge set a trial date for April 15-16.
The decision came after two and a half hours of a theatrical hearing during which the private life of Bettencourt was laid bare in humiliating detail as statements from a former cleaning lady, an ex-secretary and a nurse were read out.
"This is a foul dredging up of private acts that have no place in a public courtroom," said Banier's lawyer Herve Temime.
None of the protagonists were present in court. Their lawyers were three of the most high-profile in France.
"Francois-Marie Banier will not lose a word of this trial and will be delighted to participate, for he is impatient to clear his name of these calumnies," said Temime.
The dashing Banier has been a fixture in fashionable Paris circles since he was a teenager, making friends with famous writers, rich patrons of the arts and other celebrities.
Bettencourt's lawyer said the daughter, who had always had troubled relations with her mother, was jealous of the fun-loving Banier's friendship with the older woman. He also accused the daughter of seeking to control her mother's wealth.
He said the billionaire heiress considered Banier a soul mate and their platonic relationship was one of deep trust.
"I can assure you that Mrs Bettencourt did not rush into the arms of Mr Banier, who would have been horrified if she had."
(Editing by Robin Pomeroy)
© Thomson Reuters 2022 All rights reserved.