Trade show Mare di Moda getting ready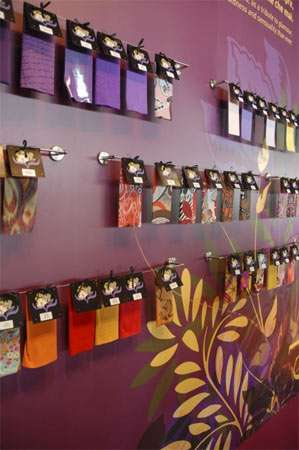 Preview of the trend space at Mare di Moda
At the heart of Europe, Cannes is welcoming
Mare di Moda
– the salon dedicated to fabrics and accessories for beachwear and lingerie – for the eighth year running from the 25-27th November.
It was another successful year last year for the trade show with more than 130 exhibitors and almost 3,000 buyers present, representing approximately 1,000 companies.
This year, Mare di Moda is getting ready to do even better. So far a number of factors have contributed to the renown of the event: European exhibitors who are conscious of ethical and quality concerns surrounding beachwear and lingerie fabric and handpicked visitors from the Euromed area to name but two.
There will be a new offering this year, a competition called The Link – a springboard for the talents of tomorrow. Principal sponsor Invista is offering the opportunity for European design students to experience styling and visual communications at first hand. This is being done by mini-collection in Lycra© for beachwear and lingerie, or by creating a campaign focussing on these sectors.
The organiser and founder of Mare di Moda is the Consorzio Mare di Moda, formed by the Como Businessmen's Union and by Sistema Moda Italia, which is the major Italian textile industry association. Founded in 2003, Mare di Moda aims to represent and promote the interests of its business members and protect the high quality and creativity of the European textile industry.
By Jonathan Fulwell (Source: C. Vautard)
Copyright © 2023 FashionNetwork.com All rights reserved.