Tourists drive growth at France's Printemps
May 24 - French department store group Printemps expects sales to grow by about 10-15 percent again this year, driven by tourists from China and Russia spending thousands of euros in its Paris stores.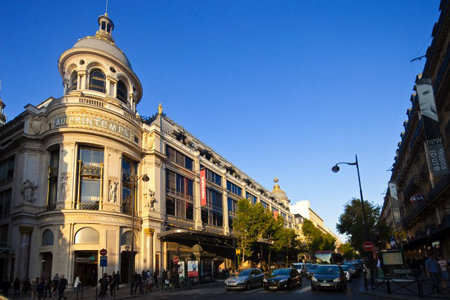 Le Printemps department store in Paris (Photo: Corbis)
The average amount for which tourist shoppers are filing tax refunds is more than 700 euros ($987), with Chinese and Russian customers spending in excess of 1,000 euros each, Chief Executive Paolo de Cesare said on Tuesday.
"The Russians are coming back," Cesare told the Reuters Global Luxury and Fashion summit in Paris. "There's a direct correlation between the oil price and the number of Russians coming to our store."
Italian-born Cesare said the rise in sales showed a "strong performance" in the current economic environment and said the group was gaining market share in a stable French apparel market.
He said the top end of the luxury market was outperforming.
"The higher-end customers don't want to trade down," he said. "Even if times are tough, they stay with the brand."
Printemps, which traces its roots back to 1865, has 17 stores in France, but its growth is currently driven predominantly by its flagship Paris store, famous for its art deco cupola.
Cesare said Printemps would open its first new store in 30 years at the end of 2013, in St Jean de Cannes, between Cannes and Nice on the French Riviera.
The CEO called on France to do more to ensure Paris remained attractive as a tourist destination, such as relaxing Sunday trading laws.
"We need to understand that the tourist flows going forward will be Asian," he said.
By Victoria Bryan and Pascale Denis
(Editing by James Regan)
© Thomson Reuters 2023 All rights reserved.