Top quotes from the Reuters Global Luxury Summit
May 24 - The who's who of the global luxury industry joined Reuters reporters at the Luxury and Fashion Summit in fashion capitals ranging from Paris to New York. Here are some memorable quotes from the first day of the summit: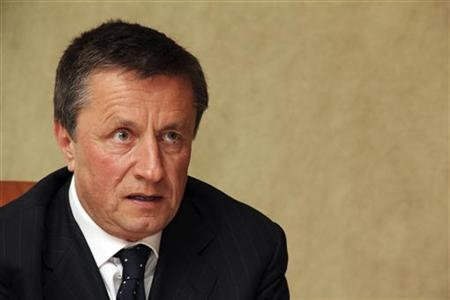 Roberto Cavalli CEO Gianluca Brozzetti attends the Reuters Global Luxury and Fashion Summit in London May 23, 2011
JENNIFER HYMAN, CEO, RENT THE RUNWAY
"For me, it has never been about 'Oh, the economy is bad or it's a recession, so now I won't buy X anymore.' It's about thinking every single year what do I want to invest in for my permanent wardrobe that I will have for years and years to come. People need to start thinking about accumulating luxury items as a lifelong pursuit, building aspects of a wardrobe."
SHAWN KRAVETZ, ESPLANADE CAPITAL:

On the importance of overseas markets:
"If you are, you know, stuck on the island of Manhattan and South Coast Plaza and all these wonderful markets, you have largely tapped out. There aren't a lot of emerging Palm Beaches in this country. But, you know, a 14-hour plane flight from here, there certainly are."
STEPHAN WINKELMANN, LAMBORGHINI CEO:
On Lamborghinis:
"There are pockets of wealth around the world. There are some places you will never see one. There are some places, in LA or the south of France or Monte Carlo or London, where you will see one every day. You should always produce less than the demand."
PASCAL BERCLAZ, QUINTING PRESIDENT:
"Our best market is Switzerland but that doesn't mean Swiss customers. We're selling well in Switzerland, but it's to foreign clients."
THIERRY GILLIER, ZADIG & VOLTAIRE CEO:
"Luxury is simplicity. It's hand-knitting, warm but not too much."
FLORENT PERRICHON, CERRUTI CEO:
"Bling bling has never disappeared. The main motivation for luxury is to show off. Luxury is almost a natural human need."
DIDIER LE CALVEZ, LE BRISTOL CEO:

On hotel jobs:
"The job of the chambermaid is the hardest in the hotel business."
NICOLAS HIERONIMUS, L'OREAL LUXURY HEAD:
"We are not considering producing in China because the fact that the products come from European countries is a sign of authenticity and quality for Chinese consumers."
GIANLUCA BROZZETTI, CEO OF ROBERTO CAVALLI:
On potential suitors for the company:
"We have a long queue that is coming to us, because they can smell there is something positive going on."
(Compiled by Martinne Geller and Dhanya Skariachan. Editing by Robert MacMillan)
© Thomson Reuters 2023 All rights reserved.