Tills fail to jingle at Dubai Shopping Festival
DUBAI, Feb 6, 2009 (AFP) - Ahmed, clad in an elegant black suit, smiles from behind a fine display of cosmetics at a department store in Dubai, but most shoppers glance quickly and dash away, with only a few reaching the cashier.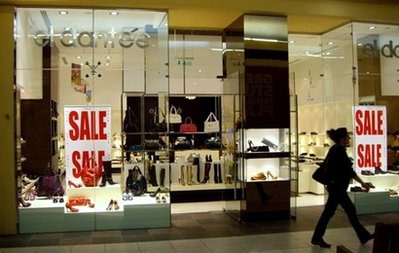 Photo : Marwan Naamani/AFP
Like many retail workers in the Gulf Arab emirate, Ahmed feels the Dubai Shopping Festival -- an annual month-long sales extravaganza starting in mid-January -- is not the same this year due to the global financial crisis.
"During last year's festival, customers used to buy a whole set of perfume, shower gel, body lotion and other additions. Instead, this year, we would be really thankful if they bought just the perfume," Ahmed says as he adjusts his tie. "You just have to do a lot of convincing for them to actually buy stuff."
This year even enticements such as raffles for luxury cars, apartments or even gold are failing to make people open their purses and wallets.
"We don't feel there is a shopping festival anymore. We have experienced days (during the festival) that are even slower than normal days last year, let alone last year's shopping festival," Ahmed said.
Dubai -- one of the seven members of the United Arab Emirates -- has enjoyed a six-year boom as a financial and tourism hub but in recent months consumer appetite has been battered by the global economic downturn.
Over the years, the annual festival (DSF), seen as a key barometer of Dubai's economy, has been popular both with tourists and the country's resident population, lured by the emirate's tax-free status and glitzy mega malls.
The DSF "accounts for 25 percent of the annual sales of some retailers, but this year, the mood is certainly more quiet in the malls and the traders will not see the peaks of previous years," says Trevor Lloyd-Jones, managing editor of Business Intelligence Middle East.
"Consumers in the UAE are spending less and some major retailers have said their sales are currently down 20 percent."
Retailers from various trades told AFP they have witnessed a drop in footfall, per-customer spending and number of tourists - a main catalyst in boosting the festival's sales.
Shopkeepers informally estimated that their sales are down between 20 and 50 percent, a drop that could not be independently verified.
Ahmed of the fragrance store said this year's sales at one outlet have more than halved to 5,000 dirhams (1,360 dollars) per day, from an average of 11,000 to 12,000 dirhams per day a year ago.
Laila Suhail, chief executive of the festival's office said although footfall at malls has increased this year, consumers are spending less.
-- Consumers are spending less --
---------------------------------
"Consumers are spending less, but spending wisely... but footfall at malls rose 3-5 percent," she told AFP.
A survey by Mastercard forecast that consumer confidence in the UAE is set to dip in the first half of this year.
Dubai, where expatriates make up more than 80 percent of an estimated population of two million, has suffered jobs cuts, a stock market rout and is facing forecasts of economic slowdown.
The city state does not have much oil but hydrocarbons are the main source of income for the UAE, which is the world's fifth largest oil exporter and the slump in global prices has affected business confidence in Dubai.
At the Mall of the Emirates, most people shopping at the weekend, when throughput is supposed to be at its peak, are barely holding a shopping bag or two, pushing carts that are only half full or even just window-shopping. No pushing or shoving at the fitting room or queuing at the tills.
Even the "70 percent discount" signs plastered all over shop facades are failing to generate the hype of the previous years' festivals.
"The mall this season is not as crowded as it had been last year and you can even tell: you find that most sizes of clothes are available unlike last year," says Marianne, an Egyptian living in Dubai.
A drop in tourist numbers has also contributed to sluggish sales, retailers say. Tourist expenditure is a key source of income for the emirate, which boasts enjoys year-long sunshine and luxury hotels.
Hotel occupancy rates have dropped and hotels have been forced to slash their rates, according to hotel employees.
A hotel executive who declined to be named says the chain he manages has seen a drop in tourist arrivals, forcing the company to cut prices by 40 to 50 percent.
Usually, occupancy rates in the winter high season are close to 100 percent, but they were already down to 60 percent in December, he said.
Lloyd-Jones of Business Intelligence cites industry sources as saying occupancy rates were down by 25 percent in some hotels as of early January.
"Tourists are a very important element of spending in Dubai, they comprise up to 25 percent of (customers in) some of the tourist-oriented malls such as Mall of the Emirates," he added.
Alongside hydrocarbons and real estate, the UAE relies on the services sector, which in 2007 represented 47.9 percent of real gross domestic product.
But the UAE is forecast to see a deceleration in economic growth this year. Shuaa Capital expects the UAE economy to grow only 2.4 percent in 2009, compared with 7.5 percent last year.
Dubai's population is also expected to shrink by eight percent in 2009, according to a UBS Bank forecast, implying lower total expenditure.
Even those who remain may be cautious with their cash.
"They (people) don't want to spend on electronics - they only want to spend money on food, their basic needs," a salesman said.by Ola Galal
Copyright © 2023 AFP. All rights reserved. All information displayed in this section (dispatches, photographs, logos) are protected by intellectual property rights owned by Agence France-Presse. As a consequence you may not copy, reproduce, modify, transmit, publish, display or in any way commercially exploit any of the contents of this section without the prior written consent of Agence France-Presses.