Tighter rules planned to protect "Swiss-made" label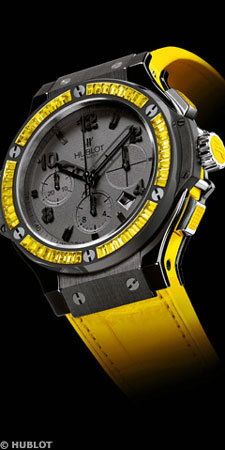 Swiss watch Hublot
ZURICH, Nov 18 (Reuters) - Switzerland proposed on Wednesday 18 November tighter rules to define the "Swiss-made" label as it seeks to protect the country's reputation for quality goods from watches to cheese and penknives.

The government is clamping down on abuse of both the "Made in Switzerland" tag and the white-on-red Swiss cross logo, which have been hijacked by some foreign companies looking for an easy way to boost the value of their products.
"How much of 'Switzerland' has to be in a product or a service before 'Swiss' can be on written on it? The current laws leave too much open and don't place enough importance on the economic reality," the government said in a statement.
The number of cases of abuse has risen considerably as the "Swiss brand" has become more successful, the government said, and studies have shown consumers are willing to pay up to 20 percent more for certain Swiss goods.
"Swiss products and services enjoy an excellent reputation both at home and abroad. They are seen as reliable and as high value in terms of quality," the government said.
Fake "Swiss" products from countries like China have become a major headache for various industries, including Swiss watchmakers like Swatch Group (UHR.VX), Rolex and Richemont (CFR.VX).
The new rules, which will go to parliament for approval next year, would require that 60 percent of the manufacturing costs of industrial products are accrued in Switzerland.
To be branded "Swiss", at least 80 percent of the weight of raw materials used in processed food like cheese will have to come from Switzerland, but exceptions will be made for raw materials that are not found in the country, such as cocoa.
The watch industry currently demands at least 50 percent of a timepiece's mechanics must be made in Switzerland to qualify as "Swiss", but has already proposed an even tougher requirement for itself of 80 percent.
The new rules will for the first time officially allow companies that meet the "Swiss-made" criteria to use the white-on-red Swiss cross, although the use of the cross on a red shield will be restricted to the Swiss government.
Felix Addor, deputy director general of the Swiss Federal Institute of Intellectual Property, said an exception to that rule would be made for companies like 125-year-old Swiss Army knife maker Victorinox which has used the shield emblem for more than 20 years, assuming they fulfil the 60 percent rule.
"Victorinox can ask to use the sign for their knives, but not for products which are produced abroad unless they bring back to Switzerland at least 60 percent of the production costs," Addor told Reuters. (Reporting by Katie Reid and Emma Thomasson; Editing by Elizabeth Fullerton)
© Thomson Reuters 2023 All rights reserved.