Temporary shops that are here to stay
By Matt Cowan and Mark Potter
LONDON (Reuters) - Shops happen. Like viral online ad campaigns, temporary big brand outlets are sneaking up on European streets, filling vacancies opened by the credit crunch and building a buzz that's relatively cheap.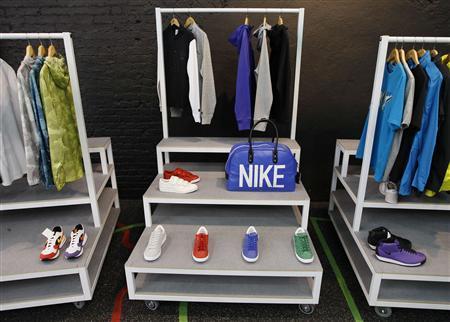 One example is tucked away on a side street in the shell of an old railway arch. Only open from Thursday to Sunday, the Nike store in Shoreditch, east London, was originally planned just for the duration of last year's Olympic Games.
Now the sporting goods giant says the secretive format, selling high-end ranges and occasional exclusives, has proved such a hit with those in the know it's staying.
"If you find it, it's like a cool thing," said store manager Nehjat Ramoth, between arranging minimalist shoe displays in the cavernous black interior.
"It's to help the brand, but also keep the exclusivity of certain products," he said. "We had people who queued last week for one shoe from 10 o'clock the night before."
Retailers and designers experimenting with temporary -- or "pop-up" -- shops are also re-energizing bricks-and-mortar shopping, adding variety to an experience which globalization has tended to dull.
The Nike store, named 1948 after the last year London hosted a summer Olympic Games, has attracted a cult following by creating a running club and offering dance lessons to the local community as well as an alternative to replica store fronts.
"It is just a different experience, you are not bombarded, you are not bumped in to," said Marc Harris, 34, who works in sports marketing and stopped by on his Vespa to try on a top.
Paola Comini, owner of a store in Milan's trendy Brera district, has tapped into the idea and signed up a procession of short-term tenants including toothpaste brand Colgate, condom maker Durex and a seller of Paris Hilton-designed watches.
"The store is rented out for practically all of autumn and winter. I am already getting requests for next year," he said.
EXPERIMENT
Temporary shops were once the preserve of opportunistic market traders or firms looking to shift old stock, but mainstream and upmarket brands find them a relatively cheap way to create a buzz about a new range, or test out a new concept.
The economic downturn is helping, making landlords more willing to agree short-term leases in order to fill empty shops.
"Without committing yourself you can do something really interesting, very innovative and do it really quickly," said Moira Benigson, a retail specialist at MBS Executive Search Agency.
"You can go in and out of things and experiment."
Market researchers Experian estimate that more than one in seven British retail sites, or about 135,000 outlets, will be unoccupied by the end of this year. Vacancy rates are likely rising in other parts of the world as the recession bites.
"Landlords will be happier to fill stores with exciting brands/retailers that create a buzz, for however short a period of time, rather than leave their stores empty," said Jon Wright, industry manager for retailing at market researchers Euromonitor International.
GUERRILLA STORES
Web site Trendwatching.com traces the surge in upmarket pop-up shops to 2003 when U.S. designer outlet Vacant opened in empty stores for a month at a time in New York, London, Paris and Berlin.
Shortly after, avant-garde Japanese designer Comme des Garcons launched its first "Guerrilla" store in Berlin for one year only. It has since opened, and then closed, in cities including Reykjavik, Los Angeles, Singapore and Beirut, with its latest opening in November in Glasgow.
Many major U.S. brands have picked up on the trend, including internet auction site eBay, which challenged interior designers to furnish a New York penthouse using items only bought on its Web site, while retailer Target even set up a floating temporary store on the Hudson River.
Now Europeans are getting involved. In March, skincare brand Nivea took up temporary residence on the chic Maximilian Strasse in Munich, employing make-up artists and a photographer to pamper passers-by, while shoe designer Rupert Sanderson recently opened a pop-up shop to showcase his latest collection in Paris.
For retailers facing growing competition online and struggling to capture shortening attention spans, it's a help.
"A retailer cannot be static today. You can't just stand in the shop and wait behind the counter for people to come by," said Philip Start, owner of London's Start clothing boutique, which recently handed over part of its store to designer brand Mother of Pearl and plans to run more temporary "shop-in-shops".
MBS's Benigson said retailers need to give shoppers a reason to leave their computers, and pop-up shops are one solution.
"There is still (no substitute) for live entertainment. We all love it. Would you rather watch Manchester United live or in your living room?"
Cristina Rossi, an Italian browsing the latest incarnation of Comini's ever-changing shop in Milan -- a display by crystal maker RCR -- enjoys the variety and entertainment.
"People like the novelty aspect, and obviously the events they organize," she said, referring to "Happy Hour" promotions offering drink and buffet food at the spacious and airy store, fronted with giant glass windows.
VIBRANCY
Upmarket pop-up shops may work in affluent, urban areas, but Jonathan de Mello, director of retail consultancy at Experian, said they're not a solution for the industry as a whole, which is facing a steep downturn in consumer spending.
"Empty shops tend to be in the worst locations. They're vacant for a reason," he said.
Once economies have recovered, he said property firms will push to sign longer-term leases again: "A landlord will always want security of income."
But some property firms are interested in the broader benefits that innovation can bring to a district.
"For us it's not about the rents," said Helen Franks, London retail leasing director at Grosvenor, which manages much of the Duke of Westminister's property estate.
"The lifespan of one of our pop-ups ranges between one week and two months. The rental income for such a short period is negligible. For us, it's more about the publicity and vibrancy that it generates for a particular area or street."
(Additional reporting by Sinead Cruise, Kylie MacLellan and Phakamisa Ndzamela in London; Marie-Louise Gumuchian in Milan, Jacob Comenetz in Berlin and Martinne Geller in New York; Editing by Sara Ledwith)
© Thomson Reuters 2023 All rights reserved.