Syms and Men's Wearhouse eye Filene's
May 26 (Reuters) - Clothing retailers Syms Corp (SYMS.O) and Men's Wearhouse (MW.N) are entering the battle to buy the majority of the stores of Filene's Basement Inc, which filed for bankruptcy protection earlier this month, the New York Post said, citing sources.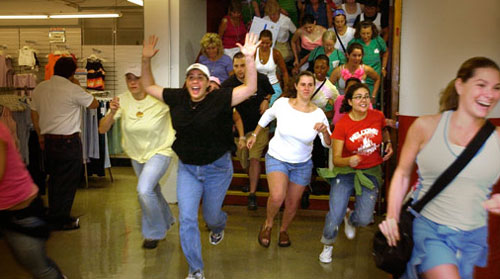 The famous 'Running of the Brides' at Filene's Basement
Syms is joining forces with real-estate giant Vornado Realty Trust (VNO.N) to boost its bid, with Vornado's main interest being Filene's flagship store in Boston, which sits on a "dirt-cheap" lease, the paper said.
Men's Wearhouse, Syms and Vornado were not immediately available for comment.
The companies, which plan to buy at least 15 Filene's locations, would operate them under either the Syms or Men's Wearhouse brands, the paper said.
Filene's Basement had originally agreed to sell 17 of its 25 stores to an affiliate of Crown Acquisitions for $22 million, including flagship stores in New York and Boston. [nBNG398169] (Reporting by Esha Dey in Bangalore; Editing by Rupert Winchester)
© Thomson Reuters 2022 All rights reserved.