Swiss watch exports head for worst year in decades
ZURICH, May 28 (Reuters) - Swiss watchmakers are facing the worst decline in demand in at least two decades as consumers across the world remained wary about treating themselves to luxury timepieces.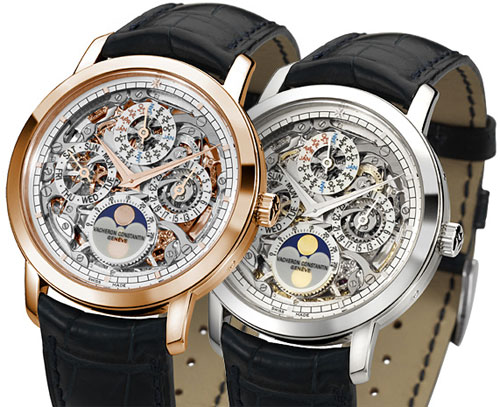 Vacheron Constantin watches, a horology brand of Richemont's
Watch exports in April dropped by 26 percent on the year, data from the Swiss Watch Federation showed on Thursday 28 May, taking the decline in demand in the first four months of the year to 24 percent.
"We forecast a 15 percent decline in Swiss watch exports in 2009 -- the worst performance in 25 years," Citi analyst Thomas Chauvet said.
This would be by far the sharpest drop in the last 20 years, according to data from the Swiss National Bank, which goes back until 1989. April figures showed the mid-range price category was hit hardest, with watches costing between 500 and 3,000 Swiss francs falling 35 percent, while watches costing more than 3,000 francs fell by 22 percent.
Watches in the 200-500 Swiss franc entry level category, however, held up better with a 13 percent drop.
"For the second consecutive month, entry price segments performed better than the upper end segment," Chauvet said.
"We would remain cautious in drawing early conclusions, e.g. by claiming that this may reflect trading-down consumer behaviours," he said.
Consumers are putting the brakes on spending as the global recession is forcing companies to axe jobs. The gloomy consumer sentiment has also prompted retailers to stop ordering new goods as they work to get rid of old stock.
"Swiss watch trends could remain weak for another few months, reflecting continued de-stocking at wholesale level, weak consumer end-demand, depressed travel flows notably to Europe, and a high basis of comparison until September," he said.
By 1013 GMT, shares in Swatch Group (UHR.VX) were trading 0.7 percent lower at 176.50 Swiss francs, while rival Richemont (CFR.VX) was 1.5 percent lower at 23.16 francs, slightly outperforming a weaker DJ personal and household goods index .SXQP.
Demand from Hong Kong, the biggest market for Swiss watches, fell 22 percent, while exports to the United States slumped 42 percent -- largely in line with the pace of decline in the previous month.
However, the fall in exports to Japan accelerated in April, tumbling 35 percent. (Reporting by Katie Reid; editing by Simon Jessop)
© Thomson Reuters 2023 All rights reserved.