Swiss watch exports fall sharply again in Feb
ZURICH, March 19 (Reuters) - Demand for Swiss timepieces fell sharply for the fourth month in row in February, with exports to the United States tumbling by almost half as the wealthy cut spending on accessories, data showed on Thursday March 19.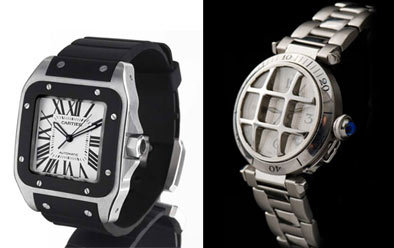 The Santos and the Pasha "Grille" - Cartier
The value of Swiss watch exports slumped 22 percent in nominal terms compared with the year-ago period to 1.03 billion Swiss francs ($902.7 million), the Federal Customs Office said.
Demand for watches from Switzerland, home to the world's largest watchmaker, Swatch Group (UHR.VX), and its rival Richemont (CFR.VX), has dwindled in recent months due to worries about the economic crisis and the fear of job losses.
The export data gives an indication as to how much stock retailers are ordering.
"Retailers are being quite prudent now. They don't want to have high inventory levels," said ZKB analyst Patrik Schwendimann.
But Swatch Group Chief Executive Nick Hayek said on Wednesday that orders from retailers had started to pick up in March as stock levels had fallen, indicating that some consumers were still prepared to spend.
Exports to the United States -- the second-largest market for the Swiss watch industry -- fell by nearly 50 percent, the Swiss Watch Federation said.
"A lot of wealth has disappeared in America due to the huge drops in home and equity prices. All kinds of people are being hit by this -- engineers, people in financial services are losing their jobs," Schwendimann said.
The federation said European markets performed better than the average, with Italy actually growing 2.4 percent, but European consumers are also likely to rein in their spending further in the coming months, which is likely to hit exports.
Exports to Hong Kong, the biggest market for Swiss watches, only fell 4.4 percent.
Jean-Daniel Pasche, head of the Swiss Watch Federation, told Reuters it was difficult to predict how demand for exports would evolve, but it was clear that the first half of the year would be weaker than the previous year.
"How things develop depends very much on the global economy and it is very difficult to predict when the global economy will pick up," Pasche said.
By 1034 GMT, shares in Richemont were 2.1 percent stronger at 17.75 Swiss francs, while Swatch Group shares were up 3.7 percent at 144.70 francs. The DJ personal and household goods index .SXQP was down 0.9 percent
Swatch expects to see a slight increase in full-year sales in 2009 as demand picks up in the second half of the year, but some analysts have said the maker of the colourful Swatch watches is too optimistic about its outlook.
"Swatch Group is still too optimistic for 2009 and expects already an improvement of the situation in March and growth again in the second half. This positive outlook is based on its sell-out at their own retail network," said Vontobel analyst Rene Weber.
Swatch's relatively upbeat tones contrast with those from Richemont, which said in January it was facing its toughest markets in two decades and has started to cut jobs. Its Cartier brand has introduced shorter working hours at one of its factories.
The federation said the number of timepieces exported also fell 28.4 percent from a year ago to 1.4 million and the downturn was particularly marked for watches in the low- and mid-price segments. (Additional reporting by Emma Thomasson; Editing by David Cowell)
© Thomson Reuters 2023 All rights reserved.