Surveys vie to capture the Chinese consumer
BEIJING/SHANGHAI - Fashion-conscious Shanghainese Xing Chunhui spends her weekend window shopping, pausing for meals or tea with friends, before going online to see if she can get the same clothes cheaper.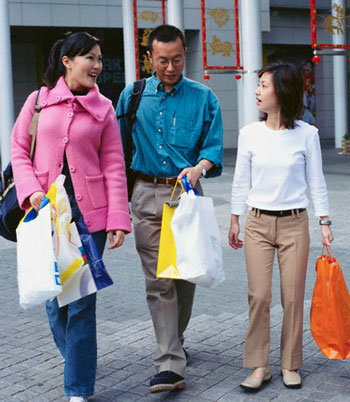 Photo: Corbis
Tracking her consumer behaviour and determining whether she will do the same next weekend is a growth industry in China, where public and private surveyors are battling to develop an authoritative consumer confidence index.
Getting to know Xing - and millions of shoppers like her - is already a necessity for CEOs trying to sell into the China market. If and when investment slows and China tips into consumer-led growth, understanding her outlook could become the key to calling the Chinese economy.
"Consumers are not the main driver of the economy now, but at some point they will be," said Andrew Polk, economist for the Conference Board in Beijing, which includes a Consumer Expectations Index in its leading economic index for China.
"Even if consumption doesn't increase as a proportion of GDP the level of consumption is going to grow, so it is something worth understanding and tracking."
In the United States, consumer confidence indices, compiled for decades, are closely watched as an indicator for spending plans and also as a political barometer.
In China, consumer behaviour has altered dramatically, depending largely on the generation and on geographical locaion - rural or urban.
While her grandmother stuffed every cent she saved into Xing's piggybank, the younger woman spends more than half her $10,000 annual salary on shopping, travel, beauty and eating out.
"I think the money I have is enough, so I may as well spend it. I don't bother to save," Xing told Reuters. "Even if home prices come down I can't afford to buy, but for everything else, prices are going up, so there's no reason to hold back."
Xing's curious mix of free spending and bargain-hunting will become more relevant as China's top-down, debt-driven focus on investment yields to an economy driven by people like her.
The most official measure of consumer sentiment is a monthly figure produced by the China Economic Monitoring & Analysis Center, affiliated with the National Bureau of Statistics.
The NBS has tracked expectations since the 1990s, enlarging its telephone survey to include rural consumers and a broader base of city dwellers. An official at the centre declined to specify how many people were captured in each survey.
The consumer confidence survey gives greater weight to a consumer expectations component than to consumer satisfaction, which gives it a forward-looking value. However, its relatively late release to the public offsets that advantage.
GATHERING DATA
The lack of full information about NBS methodology has left the field open for rivals.
Corporations with their eye on the China market are not waiting around for any one index to become established. Many simply gather their own data.
China UnionPay has the simplest approach. Its Bankcard Consumer Confidence Index, jointly compiled since 2009 with the state-backed Xinhua News Agency, analyses spending as shown in its customers' bank card bills. That naturally biases the sample towards urban dwellers who use bank cards.
Marketing firm Aegis goes to more lengths. It interviews 66,000 Chinese in 88 markets, including all sizes of cities and some in the country.
The quarterly survey tracks trends for its clients, often global brands names. Second-tier cities, where multinationals are making headway, account for about one-third of respondents.
"So far, there's no major trend emerging other than a growing frustration with the rising cost of living," said Seth Grossman, head of Vizeum Asia Pacific, an Aegis subsidiary.
Another favourite is a survey by the People's Bank of China, which tracks six measures of current and future price expectations and satisfaction. Fans of these surveys say they are useful in anticipating inflation data.
Household consumption only accounts for a third of GDP, which means that consumer confidence is drowned out by other factors. Household consumption accounted for 71 percent of U.S. GDP in 2010.
Most economists now rely more heavily on indicators of investment activity. They argue that since investment accounts for the lion's share of growth, that is still the data to track.
"Although we hope that consumption will become more important, it's not the thing driving growth, not the most volatile factor," said Patrick Chovanec, economist at Tsinghua University in Beijing.
"Growth in consumption won't offset a collapse in investment. It's a long-term story, but not what people watch month-to-month."
The NBS survey seems to capture something of the national mood. It sank when the SARS disease spooked the public in 2003 and correctly reflected rockiness in the economy in early 2008, long before the global financial crisis became a watchword.
NBS adjusted its survey last year to formalise a base effect - reflected in a sharp upward jump in March of last year.
Attempting to capture China's many regions and rural and urban spenders - each of which forms its own economy hundreds of millions strong - also makes it hard to correlate consumer confidence with other national indicators, said Zhang Wentong, technical director for market research firm Intage in Shanghai.
Intage produces a consumer confidence index published by Market News International, focusing on 30 coastal cities, where consumers are most likely to have extra cash. It asks 30 questions to 1,000 people in 15-20 minute telephone interviews.
Intage's narrower focus means results correlate well to retail sales, stock market surges, real estate prices and auto sales, Zhang said, although the lead time fluctuates between three and six months.
"It's true that Chinese consumers are relatively optimistic compared with other countries," Zhang said.
That has been the main finding of U.S. market research firm Neilsen. It quarterly index of consumer confidence shows a steady progression in optimism, though it says rural residents have a brighter outlook than city folk.
Neilsen surveys 2,500 people though a mix of face-to-face and online interviews.
ELBOWING OUT INVESTMENT
Investment accounted for a disproportionate amount of growth over several years, as China frantically built roads, bridges, mines and factories to make up for decades of stagnation.
That will someday give way to consumption patterns of a more mature economy. Fixed asset investment hit its lowest level since 2002 in the first four months of 2012, a "mere" 20.2 percent.
"At first glance, China is still a long way from having consumption as a key growth driver," Peng Wensheng, an analyst at investment bank China International Capital Corp., wrote recently. He noted that household consumption fell to a record low of 34 percent of GDP in 2010.
Still, a turning point could be near, he said. Consumption accounted for 77 percent of GDP growth in the first quarter, gaining as investment slowed. In wealthier eastern China, the overall consumption ratio is starting to tick up, although waves of new investment in central and western China are pushing the consumption ratio there to further lows.
"This may indicate that China's long-term consumption cycle has reached, or is close to, its inflection point," Peng wrote.
That should make economists want to get to know Xing better.
"This is the story of China for the next decade," said Polk, of the Conference Board. "Either it's a story of the consumer, or it's a story of collapse."
© Thomson Reuters 2023 All rights reserved.