Surveys paint bleak picture for British economy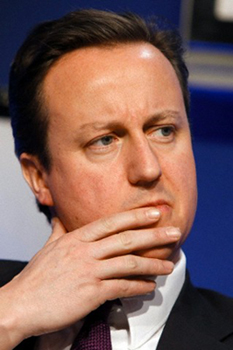 Prime Minister David Cameron says 2011 will be a difficult year
Jan 11 - British economic growth likely slowed sharply around the turn of the year and retail sales fell in the crucial Christmas trading month of December, according to two surveys published on Tuesday.
The surveys make grim reading in what British Prime Minister David Cameron says will be a difficult year. Sales tax has increased to 20 percent from 17.5 percent, while government spending cuts will start to bite this year.
Rising prices also complicate the outlook. Inflation is running more than one percentage point above the Bank of England's 2 percent target and some investors see a first rise in interest rates as early as May -- a further potential headwind to growth.
The British Chambers of Commerce (BCC) -- which represents firms employing around one in six UK workers -- reported strong manufacturing growth but a weak performance from the much larger services sector in the last three months of 2010 in its quarterly economic survey.
BCC chief economist David Kern told Reuters it would translate into growth of 0.4-0.5 percent for the fourth quarter of 2010, down from 0.7 percent in the third quarter.
The downward trend is likely to continue in the first two quarters of 2011, resulting in growth of around 0.2 percent in each quarter as businesses deal with reduced domestic demand following the spending cuts and the VAT rise.
British retail sales fell in December for the first time since April last year, dragged down by heavy snow and consumers' fears about the economic outlook, a survey by the British Retail Consortium showed.
"We have seen resilient food sales -- we all have to eat -- but non-food has had a very tough time," BRC Director General Stephen Robertson said in an interview with Reuters Insider.
Retailer Marks & Spencer said on Tuesday it expected trading to get tougher as household budgets are squeezed and commodity prices rise.
With inflation running more than one percentage point ahead of the Bank of England's 2 percent target.
INFLATION FEARS
Exports are proving a bright spot for British businesses. Manufacturers reported the strongest growth in overseas orders and sales since the last three months of 1994, when the country was recovering from its last recession.
Service sector firms reported the strongest overseas demand since mid-2007, but saw the weakest domestic orders since Britain emerged from its deepest recession since World War Two in the last three months of 2009.
Both services companies and manufacturers plan to raise prices at the fastest pace since 2008, though Kern was doubtful whether they would succeed in imposing these price rises on domestic consumers.
Nonetheless, he saw a strong chance that monthly consumer price inflation would peak above 4 percent at some point in the first half of 2011 -- double the Bank of England's target.
Kern worried that this may pressure the BoE into a premature rate rise.
"The music around interest rates has changed too much," he said. "What is, I think, wrong entirely is to take the view that the Bank of England has lost control and lost credibility. If you tell a central bank it has lost credibility, you almost invite it to overreact."
"A premature increase in interest rates will make it much more difficult to implement the government's austerity plan."
Although most economists do not see official rates rising until much later this year, market rates now price in a strong chance of the bank moving as early as May.
By David Milliken
(Additional reporting by Peter Griffiths; editing by Patrick Graham)
© Thomson Reuters 2023 All rights reserved.