Stores endure new card rules despite hurt profits
By Phil Wahba - Analysis
NEW YORK (Reuters) - Top retailers have sounded the alarm about the U.S. government's recently enacted credit card reforms, warning investors the new rules will hit their bottom lines to the tune of millions of dollars just as consumer spending is beginning to bounce back.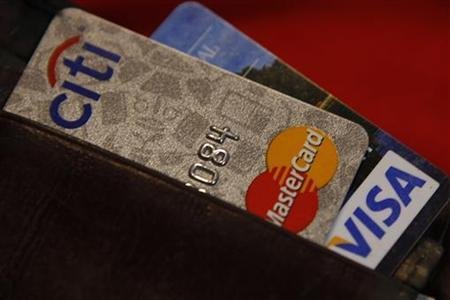 Last year, the U.S. government passed the consumer friendly Credit Card Accountability, Responsibility and Disclosure Act, or Credit CARD Act for short. Its provisions include a ban on arbitrary interest rate increases on credit card debt and requires penalty fees to be proportionate to a cardholder's violation.
"We understand there was a great desire for credit card reform," said Mallory Duncan, the National Retail Federation's general counsel. Yet he said the new rules only codified what many retailers were already doing, such as limiting fees on gift cards.
Retailers say the new rules can hurt profits, but have to grin and bear it as a small price to pay for the benefits cards provide, such as luring potential shoppers with rewards programs and revealing valuable data about customer habits.
Most credit cards are issued by banks, which led the charge in lobbying Congress as the act was being crafted, but many retailers also offer shoppers store-branded cards, which they say is crucial to wooing shoppers, especially now.
After falling sharply through most of 2009, retail sales have perked up in recent months. Yet analysts have cautioned consumer spending remains far below 2007 levels, suggesting that retailers are fighting for a smaller pie.
"The biggest benefit to retailers is the data they are able to collect off their cardholders and the ability to use the cards for incentives," said Manning & Napier analyst Walter Stackow, whose fund owns shares of department store operators Nordstrom Inc (JWN.N) and Kohl's Corp (KSS.N).
For example, Nordstrom cardholders can accumulate points redeemable for goods under its Nordstrom Fashion Rewards program and give Nordstrom key insights into individual preferences.
Sales charged to branded cards make up a large part of many retailers' overall tally, accounting for about 54 percent of Kay Jewelers owner, Signet Jewelers Ltd's (SIG.N), 2009 sales and more than 40 percent for Saks Inc (SKS.N) and Zale Corp (ZLC.N).
CRAMPING THEIR STYLE
Nordstrom and Signet own their credit card businesses and Target Corp (TGT.N) has a majority stake in its own, a potential advantage for these retailers.
"Third party providers frankly don't understand well the jewelry customer," Signet Chief Executive Terry Burman told Reuters. "We get to control our customer service. It's just a more integrated relationship with the customer."
In addition to incentives and loyalty programs, managing one's own credit card operations generates interest revenue and boosts profits by eliminating third-party transaction fees.
But the larger the credit card business, the more vulnerable a retailer is to the new rules
Last week, Signet warned the rules could hit its operating income by up to $20 million this year. Last year, its operating income was $179.9 million.
Nordstrom also said in a filing last week that "our credit business could be significantly adversely affected."
Nordstrom generated 2009 revenue of $369 million from fees and interest from its credit card business. That is only 4.6 percent of the total, but nearly four times higher than in 2005.
The Seattle-based retailer expects credit card revenues to rise as much as $45 million, or 12 percent, this year.
Still, some retailers, including Saks and Kohl's, that have profit-sharing deals with banks and get a cut of the fees and interest charged to shoppers, are renegotiating their agreements.
For example, Saks said in a recent filing that, under new terms effective on February 1, HSBC increased revenue-sharing to Saks, while Kohl's has said it may be looking for a new partner when its deal with JP Morgan Chase & Co (JPM.N) expires next year.
Other rules, current and on the way, are also irking retailers.
For example, credit card issuers can no longer offer interest-free financing for a period of less than six months. There are also upcoming rules that will restrict when gift cards expire and the inactivity fees that can be charged.
According to rules announced last week by the U.S. Federal Reserve as part of the Credit CARD Act, issuers can only charge an inactivity fee if the card has been unused for at least a year, and it must make consumers aware of all fees.
But industry experts agree retailers will put up with the slew of new rules lest they compromise one of the most valuable tools to win market share now.
"What are your choices?" Burman added.
(Reporting by Phil Wahba; editing by Andre Grenon)
© Thomson Reuters 2023 All rights reserved.