Stitch launches area for emerging talent
In response to mounting interest, the London tradeshow Stitch has announced that it is creating a dedicated space for visionary new menswear designers in order to define the very best of international and homegrown talent.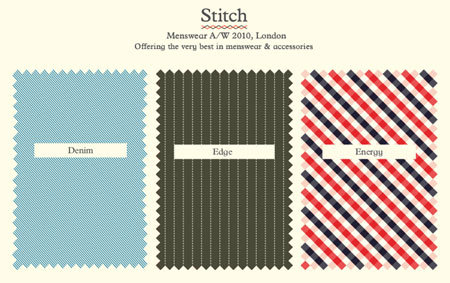 Photo: stitchmenswear.com
Professor Louise Wilson OBE joined the Stitch team in November as a panel member and has been advising on the dynamic Vision area for new talent, a groundbreaking showcase which will be integral to the inaugural Stitch show in February 2010. As an influential and outspoken figurehead in the British and international fashion industry, Wilson has nurtured many designers including Alexander McQueen, Christopher Kane and Mark Fast.
"Stitch is an incredibly important menswear event for London and the UK," explained Wilson. "With so much creative design talent here we need a platform to act on it commercially."
Also supporting the Vision stage is menswear journalist Hywel Davies who sees the event as reflecting the resurgence of interest in menswear in the capital. "London is currently a brilliant and exciting place for menswear and the Stitch tradeshow is coming at the right time to tap into this current buzz."
Vision will showcase 32 emerging designers who will join leading brands confirmed for the show including Fenchurch, Farah and Penguin in the Energy hall, and Bolongaro Trevor and Blaqua in Edge.
Supporting Stitch's ethos to provide a platform for new brands and those looking to break into the UK market, exciting international brands confirmed include LA brands King Baby Studio, Rolland Berry, Sunday Rocks, Rock Revival and Dirtee Hollywood, as well as Rebel Cashmere and Shulong from Paris and Plain Jane Homme from Montreal, who will all show within the Denim hall.
On February 14-15th 2010 Stitch will provide a UK platform for menswear and accessories brands to network and solidify their relationships. Complementing the current fashion calendar, Stitch coincides with Pure and is in advance of London Fashion Week. The show is divided into four sections: Denim, jeans brands and labels in tune with the spirit of denim; Edge, innovative brands that deliver classic or contemporary style; Energy, authentic brands inspired by sport, music and performance; Vision, a showcase of 32 emerging international talent in menswear design.
Copyright © 2023 FashionNetwork.com All rights reserved.