Stine Riis: the first winner of H&M's Design Award 2012
The winner of the H&M Design Award 2012 was announced today as Stine Riis, a 28 year old graduate from the London College of Fashion. She was revealed as the global winner at a special catwalk show at Stockholm's Mercedes-Benz Fashion Week, where Stine presented her winning collection. Stine wins €50,000, and the chance to have around fifteen pieces from her collection sold in selected H&M stores in United Kingdom, Belgium, Denmark, Germany, Sweden and The Netherlands in September. Stine was chosen by a grand jury which included fashion designer Christopher Kane, noted fashion journalists Hilary Alexander and Kristopher Arden Houser, fashion blogger Susie Lau, H&M's creative advisor Margareta van den Bosch and H&M's head of design, Ann-Sofie Johansson.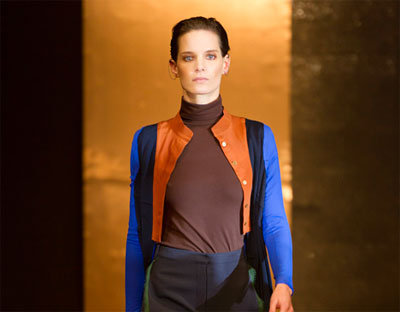 Stine Riis's collection
"I am still overwhelmed. Showing at Stockholm's Mercedes-Benz fashion week has been such a great experience. I can't believe so many people came to see my collection! This award gives me the confidence and financial back-up I need to pursue my dream of building my own brand. I couldn't have imagined a better start to my career as a designer," says Stine Riis, winner of the H&M Design Award 2012.
"Stine Riis impressed us all with the maturity and modernity of her work. Her collection was so complete, and so well finished. It was such a sophisticated show, and such an exciting occasion. I am proud that Stine is the first winner of the H&M Design Award," says Ann-Sofie Johansson, H&M Head of Design.
Stine Riis is a designer from Copenhagen who studied for her BA at the London College of Fashion in the United Kingdom. She called her final collection "Decadence & Decay", and describes her style as "tailored future elegance". Stine puts great importance into the creative process and wants the construction of the garments to be part of the design, while also making clothing that is both wearable and covetable.
Meanwhile, the winner of the H&M Design Award People's Prize was announced today as Anne Bosman. The prize has been decided by visitors to the H&M Design Award website, who have been voting since January 27 for their favourite collection. Anne Bosman receives a month's internship at Christopher Kane's design studio in London, giving him the chance to gain invaluable experience with one of fashion's hottest designers.
Set up to encourage and support the brightest young fashion talent, the H&M Design Award has seen graduates from fourteen colleges in six different countries compete first to be the local winner, and then go on to the grand prize jury. Today's fashion show was the culmination of the award process, with Stine winning the opportunity to show her work at Stockholm's Mercedes-Benz Fashion Week. The show was also streamed live at designaward2012.hm.com where the award process has been posted to inspire future generations interested in a career in fashion.
Copyright © 2023 FashionNetwork.com All rights reserved.