Steve Jobs, not just a geek but a god for designers
SYDNEY/PARIS | Thu Oct 6, 2011 - Even before he died, Steve Jobs had secured his place in the pantheon of industrial design as one of its most influential figures of the last century.
The Mac, the iPod and iPhone, born out of his vision of marrying high technology to an elegant and simple form, are already recognized by designers as among the most iconic products of the digital age.
Photo: Apple.com
Creations from the founder of Apple not only changed the way people communicate, watch films, listen to music and shop on the Internet but large Mac screens and graphics-friendly Mac software also make life easier for architects, publishers, artists and fashion designers.
"One of the truly great designers and mentors," said British architect Norman Foster, known for working on major projects such as the Millennium Bridge in London, the Millau Viaduct in southern France and Swiss Re's headquarters in London dubbed "The Gherkin."
"Steve Jobs encouraged us to develop new ways of looking at design to reflect his unique ability to weave backwards and forwards between grand strategy and the minutiae of the tiniest of internal fittings," Foster added.
The iPod, Apple's big game-changer launched a decade ago, has a special place on the wall of fame of global consumer icons, alongside the Volkswagen Beetle, the Coca-Cola bottle, the Swiss Army pocket knife or the Olivetti portable typewriter.
Every country or culture can have its own consumer design icons -- Italy's Vespa motorscooter or America's Cadillac -- but only relatively few go truly global and endure.
Rarer still are those that change the way people do things.
"Steve Jobs has shown that breakthrough products come from taking intuitive risks, not from listening to focus groups. He was a master of semiotic design," said British industrial designer James Dyson, best known for the dual-cyclone bagless vacuum cleaner.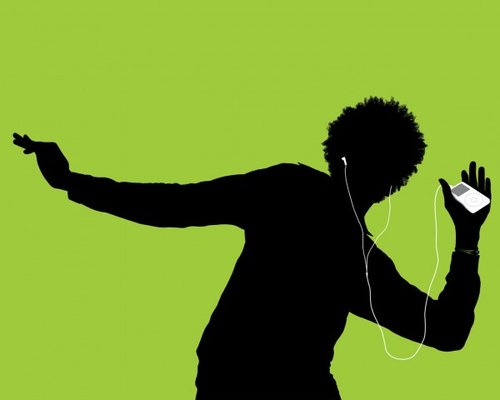 iPod's iconic ads
From its inception in 2001, the iPod spread like electricity and reshaped the music industry in a way its predecessor, the Sony Walkman, failed to do in a lasting fashion.
Apple is a computer company yet it was the first to successfully commercialise digital music on the Internet well before industry giants EMI, Warner Music Group and Sony Music and helped save the industry from slow death by piracy.
Hundreds of millions of iPods have been sold, each featuring a simple retro dial that bears the hallmark of Jobs' design philosophy of clean minimalism.
All over the world, iPods are tucked into the back of torn jeans and in the pockets of suits, strapped to the arms of joggers or entertaining commuters on tedious journeys home.
"Many credit Apple as probably the best advertisement for professional design and the role of design that we have ever seen," said Brandon Gien, an executive member of the International Council of Societies of Industrial Design.
Then came the iPad, released in 2010, which changed the way people read newspapers and books, took notes, surfed the Internet, called each other on Skype and dealt with everyday practical problems thanks to hundreds of savvy applications.
At Paris Fashion Week, which ended Wednesday, fashion buyers took photos of dresses with their iPad and once the show was over, they flicked through them as a catalogue they had just created and decided which ones they wanted to buy.
"We saw a lot of iPads on the front row," said Marigay McKee, Harrods Fashion,Beauty Director who was at Fashion Week.
"All the bloggers and a lot of the fashion editors diligently carried iPads," she added. Many luxury brands, including Louis Vuitton and Hermes (at a price of 909.56 pounds), make iPad holders as chic accessories.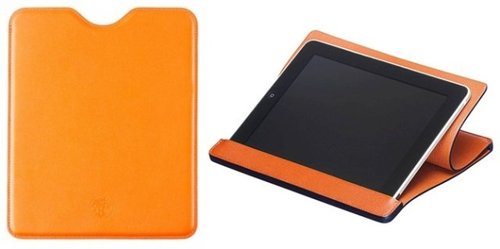 Photo © Hermès
The iPad is also getting the airline industry to rethink entertainment technology used on board. Airlines such as Australia's Quantas are looking into using iPads for in-flight entertainment to help trim costs and weight.
Professional designers regard Jobs not as one of them per se but as an innovator and businessman who recognized that form was as just important as function for a product's success.
They say there is no question Jobs directed the design fundamentals at Apple -- from the elimination of any unsightly screws in product casings to the type-face used to stamp them -- but he also relied on talented professional designers, from Hartmut Esslinger in the 1980s to Jonathan Ive who joined in the 1990s and still heads up product design at Apple.
Jobs was so obsessed with design that he hired Esslinger in 1982 on the then astronomical salary of a $1 million a year to create Apple's design strategy, which produced the "Snow White" design of all Apple products for the rest of that decade.
"Design was not a department that was buried in bureaucracy. He lifted that right up to where it rightfully belonged," said Gien, an Australian industrial designer based in Sydney.
FROM CALLIGRAPHY TO THE APPLE MAC
Jobs was inspired by design early on, having revealed in a famous 2005 speech to Stanford University students that one of his formative experiences was attending a calligraphy class at Reed College before finally dropping out of university himself.
"None of this had even a hope of any practical application in my life. But 10 years later, when we were designing the first Macintosh computer, it all came back to me. And we designed it all into the Mac. It was the first computer with beautiful typography," Jobs said at the time.
Museums around the world have been collecting early Apple and Jobs products, starting from the original Apple 1 developed in a bedroom in the 1970s by Jobs and Apple co-founder Steve Wozniak to the first NeXt computer, a magnesium "cube" developed by Jobs during a break with Apple in the 1980s.
Sydney's Powerhouse Museum, which collects icons of contemporary culture, has no doubt the iPod and perhaps the iPhone will one day also take their place alongside the greats of earlier eras, such as the Olivetti Lexikon 80 typewriter designed by Italy's Nizzoli Marcello or the Braun shaver developed by legendary German designer Dieter Rams in 1951.
"It (the iPod) may not be working in 20 years time but it will remain in that echelon of great designs for sure," said Campbell Bickerstaff, curator for the museum's information and communication technology collections.
(Additional reporting by Clare Jim in TAIPEI, Abi Sekimitsu in TOKYO, Georgina Prodhan in London, Tarmo Virki in Helsinki; Editing by Chris Wickham and David Cowell)
© Thomson Reuters 2023 All rights reserved.