South Sudan hopes to pass "attractive" mining act by October
JUBA (Reuters) - Newly independent South Sudan, eager for investment, wants to pass a new and attractive mining act before October, when bad weather could hinder exploration for minerals such as gold, a government official said.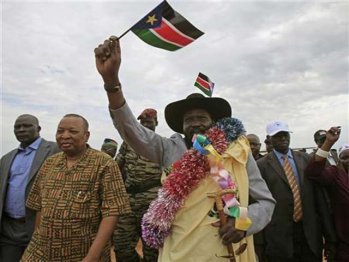 Photo: AFP
South Sudan became the world's newest country on July 9 when it split away from the north under a 2005 peace deal that ended decades of civil war.
It wants foreign investment to help build up a devastated economy that now depends almost completely on oil revenues.
Exploring for metals, chiefly gold, is part of government strategy -- as in the north. According to a government factsheet, the country's mineral resources include petroleum, iron ore, gold, silver, copper, aluminium, coal, uranium, chromium ore, zinc, mica, diamond, quartz and tungsten.
The mining bill, which has been drafted but not passed into law, includes a "friendly" tax regime and a flexible revenue share that will be determined case by case, Undersecretary for Energy and Mining David Loro Gubek said on Thursday.
"The government is interested in making the mining act attractive," Gubek told Reuters in the capital Juba."We want to encourage investors from any country...we don't want to be biased."
He said the draft had "no uniform percentage" for sharing revenues between the government and individual companies, but each share would be reasonable. Several countries in the region have mining codes seen as prohibitive to foreign firms.
The assembly that will approve the act is in recess but, with the intense rainy season already under way, renewed aerial exploration has to begin soon, Gubek said
"Before October, that would be the best for exploration," he said, adding that South Sudan would not give any new exploration licences until the mining act was passed.
The new act includes provisions to protect communities living near mining concessions as well as the environment, to reverse previous "bad policies," Gubek said.
Some 98 percent of the government's budget now comes from oil revenues. South Sudan produced about three-quarters of the roughly 500,000 barrels per day output of the united country.
Officials and analysts say agriculture, electricity generation and mining for metals could ease the country's dependence on this single, finite resource.
Some two million people died in the north-south conflict, waged over ideology, ethnicity, religion and oil for all but a few years since 1955.
Despite the south's formal declaration of independence, a number of sensitive issues have yet to be worked out, including a formula for how it will pay to transport its oil. To export crude, South Sudan must send it through pipelines to a port in Sudan.
By Jeremy Clarke and Alex Dziadosz
JUBA | Thu Jul 14, 2011 4:25pm BST
(Editing by Anthony Barker)
© Thomson Reuters 2022 All rights reserved.