Small firms get help after Black Friday hangover
Tired of suffocating crowds and seemingly never-ending lines? On Saturday, retailers want you to think small.

American Express (AXP.N) is teaming up with FedEx Corp (FDX.N) and other so-called Big Business companies to promote the second annual "Small Business Saturday," which seeks to drive more purchases at small, local businesses, like bakeries, clothing and accessories retailers and bars.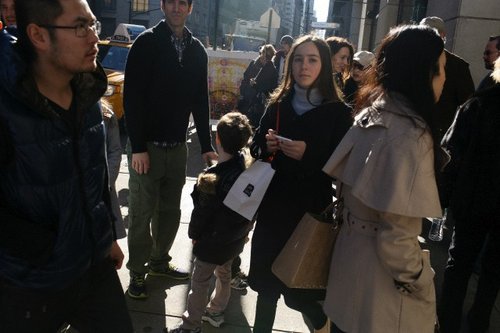 Black Friday shoppers / Photo: Corbis
The event falls between Black Friday, the day after Thanksgiving and the traditional start of the U.S. shopping season, and the Cyber Monday shopping frenzy three days later, which are important for big chain stores and online retailers.
It is aimed at people who may prefer to patronize their local stores than fight off frenzied and sometimes violent shoppers. This year's Black Friday was marked by an incident in which a consumer used pepper spray on rivals at a Wal-Mart store. [ID:nN1E7AO1H6]
Unlike Wal-Mart (WMT.N), which generated roughly $419 billion in sales last year, the businesses targeted on Saturday have a maximum of $100 million in annual sales, with many doing less than $10 million.
"I don't do lines for shopping and I don't do crowds. I'd have to get paid to do that," said Alex Pulido, a Toyota engineer from Hermosa Beach, California.
"I'm not a fan of department stores because there is too much going on there. I'm definitely supporting the local businesses," said Pulido, while shopping at Chubby's Cruisers, a local bicycle store in Culver City, California that was done up with balloons and banners urging shoppers to "Shop Small."
The store, filled with people, offered discounts ranging from 10-15 percent.
Jeff Stibal, the chief executive of Dun & Bradstreet Credibility Corp, said local stores fulfill some shopper needs that big retailers typically overlook.
"Small businesses offer personalized attention and cater much better to local needs apart from offering small discounts and being good for their communities. Your neighbors work at these stores," said Stibal, whose company rates the credit-worthiness of small firms.
Small businesses, which account for a majority of new hiring, were hammered by the U.S. credit crisis but things have improved since with more financing available.
ATTENTIVE TO SHOPPERS

Susan Root and Chris Hart from the upscale town of Belmont, Massachusetts, were among those who went shopping at the Belmont Center, where local stores were bustling with activity on Saturday.
"I like the level of attention you get, and I like going in and knowing the people who work there and building a relationship," said Root at Marmalade, which sells a range of knickknacks from candles and cards to raw honey and tablecloths.
Root and Hart purposely came out to support their local stores on Saturday.
Store manager Lauren Pazzaneze said local businesses shop at each other's stores even if cheaper deals are available at malls.
President Barack Obama also patronized smaller stores on Saturday. Obama visited a local bookstore with daughters Malia, 13, and Sasha, 10, in the diverse, upscale Dupont Circle area of downtown Washington.
"This is 'Small Business Saturday,' so we're out here supporting small businesses," said Obama, standing next to Malia who was hugging an armful of books.
Amex is giving $25 free credit to some customers who shell out $25 or more at designated local businesses on Saturday after offering $100 worth of free ads on Facebook to 15,000 business owners.
Local business owners and associated organizations like Dun & Bradstreet and SnapRetail, are using social media sites like Facebook, Twitter and Groupon (GRPN.O) to build awareness and enthusiasm about the virtue and utility of "shopping small."
By Mihir Dalal
(Reporting by Toni Clarke in Belmont, Malathi Nayak in Culver City and Mihir Dalal in New York; Editing by Paul Simao)
© Thomson Reuters 2022 All rights reserved.