Slump helps Berlin tread global fashion catwalk
By Eva Kuehnen
BERLIN (Reuters) - Berlin is hosting fashion week with a slew of parties, shows and exhibitions as it tries to carve a niche for itself on the global map alongside wealthier rivals like Paris, New York, London and Milan.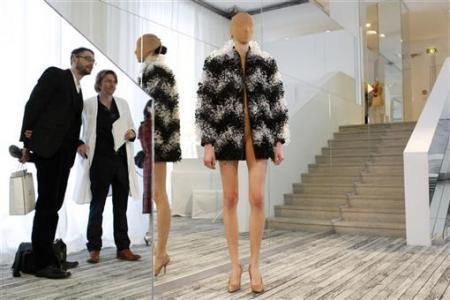 The once-divided city, labeled "poor but sexy" by its mayor Klaus Wowereit, has yet to attract the Guccis, Versaces or Jean-Paul Gaultiers of the world.
But local designers say this is the very reason the city once renowned as center of ultra-liberal, Bohemian excess in the 1920s, has the sort of potential other cities can only dream of.
"People are sick of the big labels," said Angelica Blechschmidt, who edited Vogue Germany for over two decades. "Berlin is a rough diamond. Other cities are too established. Berlin could set new global standards."
Since Wednesday, the show's focal point has been a cavernous white tent bisected by a long catwalk in central Berlin.
For nearly 12 hours a day, dozens of models have paraded up and down into the glare of spotlights and flashing cameras sporting an array of outfits ranging from glittering evening gowns, fur-lined coats -- to nothing but a necklace.
Commentators have noted that as the recession bites across Europe and unemployment rises, people are becoming more reluctant to splash out -- exposing established fashion labels to young competitors with much lower overheads.
Few big European cities come cheaper than Berlin, where the fashion week first staged in July 2007 runs until Sunday.
Office occupancy costs in Berlin are a fraction of those in London and Paris and nearly half that of Warsaw, according to latest figures from real estate company CB Richard Ellis.
The affordability of the German capital has lured ambitious young designers from around the world keen to sample its vibrant arts scene, while the lack of regular jobs in the city has encouraged people to be creative.
"Because it's not expensive you can pursue what you have your heart on. You can live here well on little money," said Hannah Tame, 34, a British fashion designer living in Berlin.
In this environment -- the official jobless rate in Berlin is nearly twice the national average -- making a statement of individuality is very important, which opens up fashion to newcomers, said former Vogue editor Blechschmidt.
Constanze Gonzalez, 31, a designer who has dressed Hollywood actress Angelina Jolie and "Desperate Housewives" star Eva Longoria, said she chose to make Berlin her base because it was the most open and creative city in Germany.
"At the moment Berlin is more affordable. Here you can still be a part of shaping the face of Berlin fashion," she said.
Fern Mallis, a senior manager at the event organizer IMG, said bad economic times were often good for fashion.
"These times are when new talent rises to the surface," she said. "Berlin ... has a very strong creative design identity. It's a marvelousbreeding ground and opportunity for new talent."
© Thomson Reuters 2023 All rights reserved.