Slow recovery for Swiss watchmakers, data show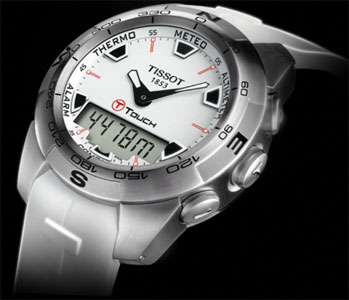 Swiss brand Tissot
ZURICH, Feb 4 (Reuters) - Swiss watch exports ticked lower in December from the previous month, suggesting there is still some way to go before the sector is in fully fledged recovery mode even though the annual rate of decline slowed.

Exports slipped 7.2 percent in December to 1.2 billion Swiss francs ($1.2 billion) after they fell 10.6 percent year-on-year in November, the Federation of the Swiss Watch Industry said on Thursday 4 February. Exports in November totalled 1.4 billion francs.
"After the month of November in which the rate of decline slowed considerably, Swiss watch exports managed to confirm this trend in December," the federation said in a statement.
Switzerland's watch industry, which accounts for around 7 percent of Swiss exports, has faced its most severe slump in demand in decades as consumers have scaled back on spending.
But signs are mounting that the sector, home to the world's largest watchmaker Swatch Group (UHR.VX), and to Richemont (CFR.VX), the group behind Cartier and IWC watches, may be emerging from tough times.
"The watch data was disappointing in the context of what has happened from companies from the results -- but it has to be remembered it is a lagging indicator," said Kepler Capital Markets analyst Jon Cox.
"Still, Hong Kong and China are obviously surging back and combined they account for a quarter of the market -- it could be close to 30 percent by the end of 2010."
Shares in Richemont fell 0.73 percent to 36.90 francs by 0856 GMT, while Swatch was down 0.42 percent to 284.70 francs, and the DJ Stoxx European personal and household goods index. .SXQP was down 0.18 percent.
Swatch Group is eyeing stronger demand for its timepieces to boost its profitability this year, while Richemont posted forecast-beating sales over the Christmas period thanks to booming sales in the Asia-Pacific region.
Exports to China rose 43.5 percent, while exports to Hong Kong, the industry's biggest market, rose 27.0 percent and demand in the United States fell 15.7 percent. (Reporting by Sam Cage; Editing by Sharon Lindores) ($1=1.060 Swiss Franc)
© Thomson Reuters 2022 All rights reserved.