Shoppers back in Black Friday binge
Nov 26 - Shoppers were back in a Black Friday bargain-binging mood, snapping up hoodies and computer laptops at stores, in a turnout that could give the economic recovery more steam.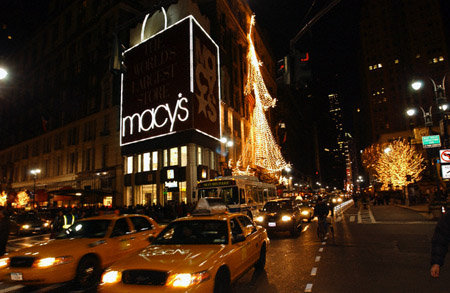 Macy's had 7,000 shoppers outside its flagship store in NY at 4 a.m. on Black Friday
In contrast to the past two years, shoppers said they were buying more for themselves and less focused only on price, while also saying the deals were not as deep as in the past.
Teen shoppers were also out in force, another good sign for the holiday season between U.S. Thanksgiving Day, celebrated on Thursday, and Christmas on December 25, retail executives and analysts said. Consumer spending accounts for about 70 percent of the U.S. economy.
"This is shaping up to be one of the biggest Black Fridays we've seen," said David Bassuk, managing director at consulting firm AlixPartners, citing store promotions and intense advertising campaigns.
As retailers look for their best holiday season in three years, less generous deals could help them avoid steep discounts later and bode well for their margins.
"More teenagers are shopping and paying higher prices, which shows that consumers are more willing to spend their discretionary income as opposed to saving it," said Jharonne Martis-Olivo, director of consumer research, Thomson Reuters.
Wall Street Strategies analyst Brian Sozzi said that discounting was more in the range of 25 to 40 percent this year, compared with 30 to 50 percent last year.
Shoppers also told Reuters they were feeling the change.
"I'm looking at the TV and it says save $70 and I'm like, come on, you've got to be kidding," said Sanjay Patil as he and other shoppers waited outside a Best Buy Co Inc store in Princeton, New Jersey, before midnight, even though the electronics retailer didn't open until 5 a.m.
"If it's Black Friday, it has to be 100 or 120 bucks savings minimum," he said.
Macy's Inc CEO Terry Lundgren said the retailer had 7,000 shoppers outside its flagship Herald Square store in Manhattan at 4 a.m. EST (0900 GMT) on Black Friday, 2,000 more than last year.
Store chains have kept inventories under tight control since they had to slash prices to get rid of excess goods in the wake of the 2008 financial meltdown.
While inventories crept up in recent weeks, consumer demand should be strong enough to overcome that increase, said David Berman, president of hedge fund Durban Capital.
"The recent acceleration in sales should help bail out retailers," he said. "Inventories are not bad, they're just not as good as prior quarters.
DEALS DEALS DEALS
Black Friday is a term adopted by retailers to refer to the time of year when their businesses move into the black, or turn a profit. This year they aim to keep sales momentum that has picked up modestly as the economy recovers.
Despite the Black Friday hoopla, there are still four more weeks until Christmas. With consumers showing a tendency to do much of their shopping at the last minute, analysts say Black Friday is not a strong predictor for the season as a whole.
Initial data on Friday traffic and sales are expected in the next two days from industry groups. Retailers report November sales results next Thursday.
This year, Friday's binge really began on Thursday, when more large chains were open and consumers shopped online. PayPal, the online payments unit of eBay Inc, said Thanksgiving Day payment volume rose 25 percent.
PayPal also reported a 25 percent rise in payment volume for Black Friday by 2 p.m. EST versus a year ago.
Retail analysts hopping from shopping malls to big-box stores to gauge traffic levels reported discounts close to 30 percent for apparel and accessories. Discounts were steeper for flat-screen televisions using older technologies.
To Andrea Arzu, 22, a medical assistant shopping in downtown Boston, the picture was clear. "I felt like everything is more expensive this year than last year," she said.
The National Retail Federation has said up to 138 million people could hit stores this weekend. The industry trade group forecast a 2.3 percent increase in sales during November and December, up from a 0.4 percent rise in 2009.
But there were still reminders of high unemployment and a split U.S. economy, where shoppers more secure in their jobs are spending while those under pressure are cutting back.
"My business is slower. My wife's business is in the tank," said Dan Cianflone, 64, a dentist visiting The Shops at Wisconsin Place in Chevy Chase, Maryland.
Retail stocks have rallied on investor hopes for a better-than-expected holiday season. The Standard & Poor's Retail index closed at its highest level in over three years on Wednesday but was off 0.36 percent on Friday.
Teen retailers Abercrombie & Fitch and American Eagle Outfitters were among the few shares that rose on Friday, with slight declines for top discounters Wal-Mart Stores Inc and Target Corp.
But for some shoppers, the thrill of the chase was not lost.
"We've been up since 8 a.m. Thursday," Krystal Mercer, a Charlotte, North Carolina, city employee, said as she shopped at a Wal-Mart. "By the time you want to sleep Thursday night, you start getting excited about the stores opening early Friday. The adrenaline just gets going."
By Phil Wahba and Brad Dorfman
(Additional reporting by Jon Lentz, Phil Wahba, Ben Klayman, Dhanya Skariachan, Ross Kerber, Joe Rauch and Liana B. Baker; Writing by Brad Dorfman; Editing by Michele Gershberg, John Wallace and Bernard Orr)
© Thomson Reuters 2022 All rights reserved.