Shopkick partners with Disney, other big brands
August 9 - Shopkick Inc, a mobile commerce company backed by Kleiner Perkins, Greylock Partners and LinkedIn founder Reid Hoffman, has signed 12 major brands to its location-based shopping app, said co-founder Jeff Sellinger.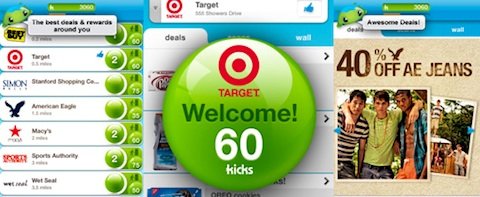 Shopkick gives you deals and rewards simply for walking into your favorite stores. You can collect your kicks™ rewards at millions of stores in America, and great deals at many of the top national retailers.
Walt Disney, General Mills and Levi Strauss are among the companies that joined Shopkick's platform, he said in an interview with Reuters on Friday.
Procter & Gamble's CoverGirl, Mr. Clean and Olay, along with Libman, Mead Johnson, Meguiar's, Revlon, Clorox's Tilex and Trident, owned by Kraft Foods unit Cadbury, are the other brands.
Shopkick's app encourages people to visit stores by sending discounts and rewards to their smartphones when they enter or scan product barcodes. Shoppers are tracked by transmitters installed in roughly 3,000 stores around the United States.
Shopkick, which started about a year ago, has more than 2 million users, and people have scanned products more than 6.5 million times so far, Sellinger said.
Target Corp, Best Buy and Macy's are among retailers that have installed Shopkick's transmitters.
(Reporting by Alistair Barr. Editing by Robert MacMillan)
© Thomson Reuters 2023 All rights reserved.