Shopkeepers in China quake zone count losses
JUYUAN, China, May 25, 2008 (AFP) - Nothing but dust covers the shelves at the Mingli cosmetic shop on Bei Jie Street. Looters took what the earthquake did not damage, the shop's owners say.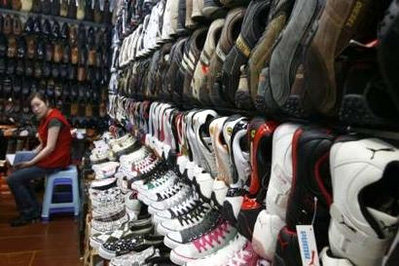 A shopkeeper, selling fake foreign brand shoes, waits for customers in Beijing
Photo : Claro Cortes IV/Reuters
Hu Qunli and her husband Xiao Juming are now left with no income and a son to support at university.
Small businesses in this badly damaged district are counting their losses after the earthquake that measured 8.0 on the Richter scale struck on May 12, killing more than 60,000 people.
Hu and Xiao lived in the back of the shop they operated for 13 years on the narrow street lined with small traders packed side-by-side. Some are now just a pile of bricks, their roofs collapsed and open to the sky.
Others that still stand are shuttered. The rubble-strewn street is virtually deserted and silent, except for the chirping of birds.
"The merchandise was destroyed and then stolen," Hu said, as her husband latched a dresser and a few other salvaged personal items to two bicycle carts.
They said they would bring the belongings to the rural home of Hu's mother.
"We're uncertain whether we can run this business. We suffered so much damage financially," she said, estimating more than 50,000 yuan (7,200 dollars) in losses.
"We don't have any insurance for life or property loss."
She worried, she said, how they would support their son, a student at Chengdu Electronic Technology University.
"We don't know how we're going to make a living," Hu said, looking down at her yellow and brown track-style footwear. "These shoes were donated by one of our friends."
The couple also received a couple of hundred yuan in assistance from one of their product distributors, Hu said, before stuffing some salvaged clothes into a plastic bag.
Besides the human cost, the earthquake has shattered the economy of southwestern Sichuan province, an agricultural region that has mostly escaped China's economic boom.
The government estimates that businesses suffered more than 3.59 billion dollars in financial losses due to the quake.
In a bid to help victims, the government has ordered banks to forgive debts that cannot be repaid due to the disaster and has offered some 82.7 billion yuan (11.9 billion dollars) in credit.
But Wang Guoxiu, who lost the hot pot restaurant she ran for seven years and with it the 80,000 yuan she invested, was waiting to see what type of compensation the government might offer.
As she and her sister determinedly lugged a cooking pot to a footpath, tossing it next to two dusty bottles of red wine and a bucket of soy sauce, Wang spoke of her dilemma.
"We have to move everything out," Wang, 41, said in this community about 50 kilometres (30 miles) from the quake's epicentre. "They made an assessment that said this building is heavily damaged."
But will they re-open the business?
"That is under consideration ... but the vast majority of buildings here are damaged," so it would be hard to find a new location, she said.
Elsewhere, Li Shichao was trying to remove rice cookers, bedding, water jugs and other household items from his shattered premises.
"After clearance, we will move out," said Li, 45. But to where? He did not know.
"My lifelong savings are invested here," he said.
Still, others were feeling lucky.
One of the few businesses that was open was that of barber Zeng Zhenshu, who had just finished towelling dry the freshly trimmed head of a customer.
Most of the ceiling fell down and there are some gaps in the roof tiles but otherwise his shop survived intact.
With no power or running water, he can no longer use electric scissors and has to rinse with a metal bucket but his revenue is virtually unchanged at 30 or 40 yuan a day.
"I was worried about losing my clients so I reopened," the 46-year-old said, reflected in a large wall mirror hanging in front of a wooden chair where customers sit.
"Around this neighbourhood this is the only barber shop still running," he said.
One of the few other signs of commercial life was at Liu Yuankai's restaurant, where he has donned his apron and returned to work.
"I don't expect to break even at this point," the 51-year-old said. "But this is part of the effort to help the local economy."by Ian Timberlake
Copyright © 2022 AFP. All rights reserved. All information displayed in this section (dispatches, photographs, logos) are protected by intellectual property rights owned by Agence France-Presse. As a consequence you may not copy, reproduce, modify, transmit, publish, display or in any way commercially exploit any of the contents of this section without the prior written consent of Agence France-Presses.