Seven & I aims to boost China revenue fivefold
By Taiga Uranaka
TOKYO, Dec 10 (Reuters) - Seven & I Holdings (3382.T) said on Thursday 10 December it aims to boost its revenue from China fivefold to about $4.5 billion over the next five years, as weak prospects in Japan prompt the country's retailers to seek growth in its fast growing Asian neighbour.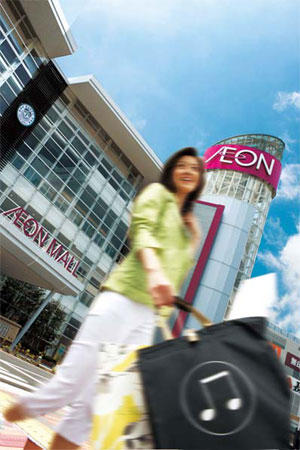 Aeon Co Ltd
Seven & I, Japan's largest retailer, and its domestic rivals such as Aeon Co Ltd (8267.T) are planning aggressive store openings in China, whose strong growth has attracted global industry leaders like Wal-Mart (WMT.N), Carrefour (CARR.PA) and Tesco (TESO.O).
Japanese retailers have been suffering sharp sales declines amid deflation, and the country's ageing population is weighing on their long-term growth prospects at home.
"Japanese retailers have to expand their Chinese businesses, otherwise they cannot survive. Actually, they should have started doing this in earnest a lot sooner," said Naozumi Nishimura, retail analyst at a research firm TIW.
"They have to expand fast now, or they will lose out on major opportunities to other rivals."
China's store-based retail market is expected to grow 9.9 percent to $915 billion in 2009, Euromonitor said, compared with Japan's estimated $985.2 billion, up 5.1 percent from a year earlier.
Seven & I said it plans to increase the number of its Seven-Eleven convenience stores in China by more than five times to 500 locations over the next three years.
The firm, which also runs Ito-Yokado supermarkets, said it aims to boost its China sales to about 400 billion yen ($4.5 billion) for the year ending in February 2015, up from 80 billion yen in the last financial year, a company spokesman said.
Rival Aeon has said it plans to double its number of supermarkets in China to 100 within a few years.
Budget fashion retailer Fast Retailing (9983.T), which has about 40 Uniqlo stores in the People's Republic, has said it is eyeing 100 store openings every year in the country.
Fast Retailing CEO Tadashi Yanai has said given its vast market potential, he expects to have 1,000 locations for large Uniqlo stores alone in China by 2020. ($1=88.23 Yen) (Reporting by Taiga Uranaka; Editing by Joseph Radford)
© Thomson Reuters 2022 All rights reserved.