Seven Aveda Products Earn Cradle-to-Cradle Certification
Beauty product maker Aveda, a company with a long history of environmental concern, has earned Cradle-to-Cradle (C2C) certification for seven products and also earned an endorsement naming it a C2C Company.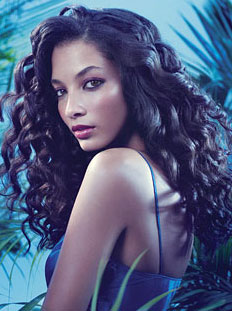 Aveda "Exotic Curls"
C2C product certification, administered by McDonough Braungart Design Chemistry (MBDC), looks at both product components and manufacturing processes. As a C2C Company, though, Aveda has set even higher goals for its business-wide operations.
The seven products that earned C2C gold certification, the third highest of the four C2C levels, are Smooth Infusion shampoo, Smooth Infusion conditioner, Dry Remedy moisturizing shampoo, Dry Remedy moisturizing conditioner, Aveda Men Pure-Formance shampoo, Aveda Men Pure-Formance conditioner and Green Science Firming face creme. Aveda's packaging also earned C2C silver certification, the second C2C level.
The products are made with a range of natural ingredients, including seaweed extract, licorice extract, Plai oil, pomegranate and palm derived conditioners, macadamia nut oil, sunflower seed oil and organic cactus.
The Smooth Infusion conditioner packaging includes 30 percent post-consumer HDPE, the Smooth Infusion shampoo has 80 percent post-consumer HDPE, the Dry Remedy products come in tubes with 35 percent post-consumer HDPE, the Aveda Men Pure-Formance packaging is 95 percent post-consumer HDPE and the Green Science Firming face creme comes in 100 percent post-consumer PET jars.
The C2C Company endorsement recognizes the efforts and commitments of the entirety of Aveda's operations beyond just a few products. C2C Company guidelines and goals cover products, processes, renewable energy, biodiversity, buildings and sites, supply chains, purchasing, social fairness, training and more.
On the energy side, Aveda buys enough wind power to cover the energy used by its main manufacturing plant, distribution facility and headquarters in Blaine, Minn., working with a local utility to buy wind energy produced within Minnesota. Aveda is the largest buyer of green energy in the state.
The company also buys wind energy to offset the energy used by its Aveda Institute in Minneapolis and all its stores across the country. Aveda's distribution facility on the west coast also uses solar power to provide 55 percent of its energy needs.
"We've been doing a lot of these things for quite some time," said Mark Friske, Aveda's director of environmental health and safety. "We just continue to progress."
The company's been working on energy conservation since the early 1990s, he said, and its efforts have run the gamut of basic lighting upgrades, energy management tools for lighting and HVAC systems, and energy recovery technology on exhaust systems. Aveda is also investigating some more advanced and complicated actions, such as converting its roofing to a white thermoplastic membrane to reflect heat, and integrating its building systems (lighting, HVAC) and manufacturing systems (boilers, chillers) together, so the two cam form a symbiosis.
As for recycling and using recycled materials, Aveda was the first beauty company to use bottles and jars with up to 80-100 percent post-consumer content and bottle caps with 100 percent post-consumer content. The company uses about 1 million pounds of recycled plastic a year, and its bottle cap recycling program, launched in September, has collected more than 100,000 pounds of caps.
Aveda's Blaine manufacturing facility reuses or recycled 62 percent of all solid waste it generated, and the company's headquarters started an organic waste materials collection program that will send organic waste to become compost material for the Minnesota Landscape Arboretum and Aveda's own organic garden.
© Thomson Reuters 2023 All rights reserved.