Sears' loss nearly doubles; shares fall
Sears Holdings Corp (SHLD.O) reported a much wider-than-expected quarterly loss on Thursday as higher markdowns and pricing pressures in appliances squeezed margins, and its shares fell 4 percent.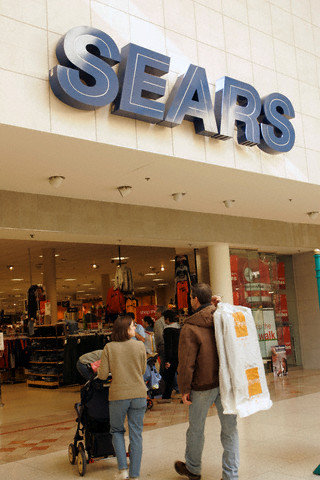 Photo: Corbis
The retailer, home to brands such as Craftsman tools and Kenmore appliances, is a victim of the economy, aggressive competition and its own reputation for run-down locations and poor customer service.
Sales at the company, where hedge fund manager Edward Lampert is chairman and the biggest shareholder, have fallen every year since it was formed through the merger of Sears and Kmart in 2005. Lampert has been investing less in Sears and Kmart stores and spending more on the retailer's online unit.
"We view Sears as the most forward thinking among hardline retailers on the opportunities of ecommerce," Credit Suisse analyst Gary Balter said. "It is a shame that the company has seemed resolute in under investing in its core stores, as, in our opinion, the poor consumer experience at the stores takes away from this approach."
Sears shares were down 4 percent at $65.57 in morning trading on Nasdaq.
During the quarter, Kmart's gross margin rate fell 0.6 percentage points due to higher markdowns in apparel and home, while Sears Domestic's gross margin fell 0.5 percentage points, mainly on reduced margins in the appliance and consumer electronics categories. Sears Canada's gross margin fell 290 basis points.
"Sears seems to be facing more price pressures in the fourth quarter, as both Home Depot (HD.N) and Lowe's (LOW.N) have been relatively aggressive in appliance promotions in November," Balter said.
As of Oct. 29, the company had cash balances of $632 million, down from $1.4 billion at Jan. 29. Total debt was $4.6 billion at Oct. 29, 2011, up from $3.5 billion at Jan. 29.
Morningstar analyst Paul Swinand, who had downgraded Sears' credit ahead of the company's losses last spring citing Lampert's propensity to take on more risk, said on Thursday that the company's "financial position is not great."
Still, Swinand does not expect the chain to go bankrupt in the near term.
"Not right now, but if the appliance business continues to make losses, they will start to run into trouble next year."
EXECUTIVE SUITE WOES
The retailer's troubles have been vacancies in its executive suite that have taken months or years to fill, especially at the top.
In early August, it named former FreshDirect executive Monica Woo as its vice president and chief marketing officer, filling a post that has been vacant since January 2010. Just weeks later, the retailer named former Hewitt Associates Chief Financial Officer Robert Schriesheim as its CFO.
CEO Lou D'Ambrosio himself joined the company only in February, ending Sears' three-year search for a new chief executive.
Sears problems were on display yet again on Thursday when the retailer said that sales open at least a year fell 0.7 percent at Sears Domestic, 0.9 percent at Kmart and 7.8 percent at Sears Canada in the third quarter ended on Oct. 29. (For a related graphic, click link.reuters.com/xab25s)
The company's net loss widened to $421 million, or $3.95 a share, from $218 million, or $1.98 a share, a year earlier.
Excluding items, Sears posted a loss of $2.57 a share, while analysts on average were looking for a loss of $2.29, according to Thomson Reuters I/B/E/S.
Revenue fell 1.2 percent to $9.57 billion, below the analysts' average estimate of $9.60 billion.
Earlier this week, Sears Canada (SCC.TO), which is now 90.4 percent owned by Sears Holdings, posted a net loss of C$46.6 million ($45.8 million), or 44 Canadian cents a share, versus a year-ago profit of C$20.8 million, or 19 Canadian cents a share.
Sears is now trying to boost sales by stepping up its online efforts and taking its marquee brands like Craftsman to other retail outlets such as Costco (COST.O).
It has also licensed its DieHard brand to flashlight and battery maker Dorcy International, allowing the Ohio-based company to sell rechargeable batteries and flashlights under that name to retailers in the United States, Puerto Rico and the Caribbean. (Reporting by Dhanya Skariachan; Editing by Lisa Von Ahn, Dave Zimmerman)
© Thomson Reuters 2023 All rights reserved.