San Andres: sunny Mexico in Milanese mists 
A bit bourgeois, a bit posh, with some irony and irreverence thrown in—a refined woman's silhouette, and lots of color! That's the style championed by San Andrès Milano, a young couture-inspired ready-to-wear brand that has managed to carve out some space in the Italian fashion landscape.

Founded in 2006 by the Mexican designer Andres Caballero (34 years old), the brand has shown for the first time this season as part of the official Milanese Fashion Week calendar, receiving support from the Camera Nazionale della Moda Italiana.



Having always been passionate about fashion, Caballero left behind his native Mexico to come to Italy through a scholarship that catapulted him to Milan's Institut Marangoni. He subsequently moved to Paris to acquire the skills required by haute couture at the Paris American Academy. Back in Milan, he interned with various smaller brands. 

"I was tired of interning. So one day, I bought some fabric and produced a mini collection alone in my studio with my sewing machine. I presented it in a small fashion trade show during the Milan Fashion Week, and sold it there to big Japanese stores," said the designer, who has since created his own company, Greyline sr, with his partner Alessandro Moneta.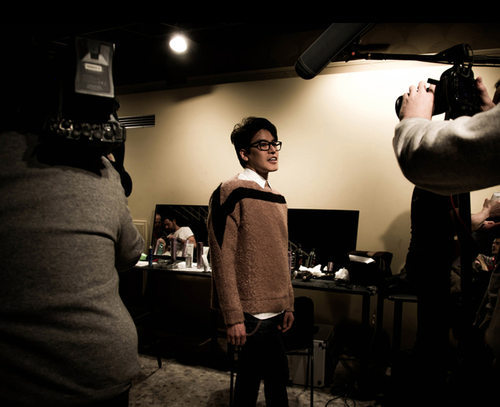 Devoutly religious, the young designer called upon a saint to bless his fledgling brand, which he named San Andrès! It didn't take him long to get noticed by Italian fashion organizations, receiving support for young artists established by the Camera della Moda, allowing him to show twice in 2007 and 2008 in Milan as part of a collective show with other emerging talents. 
In 2012, he participated in Vogue's competition Who's on Next in Rome, which allowed him to show for four seasons in the Italian capital. "I didn't win the contest, but the experience was a turning point because I realized that until then I hadn't fully expressed my creativity, concentrating primarily on products with the sole aim of selling," said the designer, who opened an atelier/workshop at the time, where he also produced custom-made garments for local clients.
 

"I refocused on my line while drawing inspiration from my roots - not to make folksy fashion, but to reinterpret tradition through a contemporary and cosmopolitan vision that is ultimately very Milanese, where you can feel the influence of modern Mexican artists, such as that of architect Luis Barragán."

San Andres has fifty multibrand clients, including in Japan as well as in the Middle East. He is currently presenting his collection for the third time in the Tranoï trade show.
Copyright © 2023 FashionNetwork.com All rights reserved.