Sales growth in toning shoes is set to slow
Dec 7 - Sales growth in toning shoes, the latest footwear fad, is set to slow as new entrants to the more than $1 billion market cause inventory pile-ups and push down prices.

Sales of the thick, round-soled athletic shoes, which claim to exercise leg and buttock muscles by forcing the wearer to work harder while walking, are forecast to have trebled this year, but growth in 2011 is expected to be a far more modest 20 percent.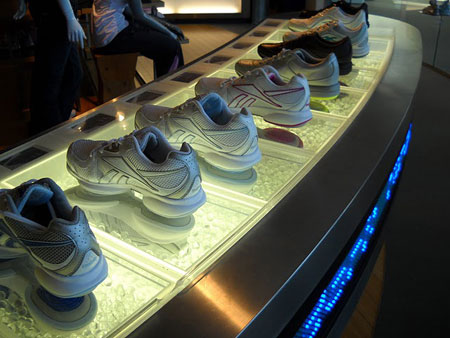 Toning shoes for women (Photo: womenstoningshoes.wikispaces.com)
"The shoes were selling really well and people thought it would keep accelerating. But it leveled off and inventory accelerated," said Sterne, Agee & Leach analyst Sam Poser, adding there are too many players competing in the market.
The market has so far been led by Skechers USA Inc and Adidas AG's Reebok, but others like Avia and Crocs are now muscling in on the action, even as athletic footwear leader Nike has sat out the craze.
Meanwhile, retailers like Foot Locker and Finish Line to Shoe Carnival Inc have kept adding shelf space for the shoes.
But as the novelty wears off, and some question just how effective the shoes actually are, manufacturers are scrambling to innovate and maintain buyers' interest, as well as battling the new, cheaper alternatives.
High average selling prices, strong margins and visible sales growth attracted manufacturers into the toning shoe arena, but analysts now say the market potential may have been overblown.
"It's probably a smaller category than it was assumed," said Camilo Lyon, analyst with Wedbush Securities.
Toning shoe sales in the United States were $360 million in 2009 and are forecast at $1-$1.5 billion this year, according to research firm SportsOnesource.
Matt Powell, analyst at SportsOnesource, expects 20 percent growth in 2011, but added that only new innovations would "energize the growth."

STEPPING ON EACH OTHERS' TOES
Currently there are more than a dozen brands selling toning shoes in the United States, said Marshal Cohen, chief retail industry analyst at NPD Group.
Morningstar analyst Paul Swinand expects even more players to get into the business with cheaper shoes, further denting growth. As the market becomes overcrowded, store inventory builds up, which is then reflected in discounts and, eventually, lower prices.
In October, Skechers, which boasts 63 percent U.S. market share, saw an unexpected slowdown as several orders for the back-to-school season were canceled.
Analysts noted that growth typically slows as any niche market matures.

By N.R. Sethuraman and Nivedita Bhattacharjee
© Thomson Reuters 2023 All rights reserved.