S.Africa union says plans strike if wage talks fail
JOHANNESBURG (Reuters) - South Africa's biggest union complained on Friday 7 August that state power firm Eskom had not so far brought any new offer to talks to avert a strike next week and said it was preparing for industrial action.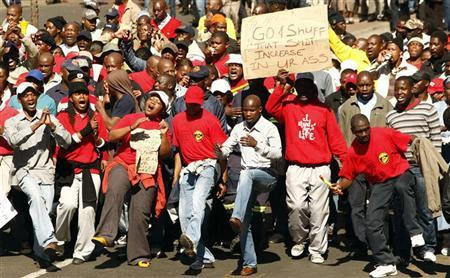 Photo: REUTERS/Siphiwe Sibeko
The threat of power cuts helped drive up prices of platinum
and palladium this week and push the rand currency to a three-week low as investors fretted about the impact on a country suffering its first recession in 17 years.
South Africa is the world biggest platinum producer and also a major gold supplier. Platinum fell almost 2 percent on Friday 7 August before recouping losses and was little changed by 1530 GMT.
Eskom generates 95 percent of South Africa's electricity and 45 percent of Africa's.
The National Union of Mineworkers (NUM) spokesman Lesiba Seshoka told Reuters the three unions involved in talks with Eskom management over pay had agreed to hold joint mass action unless a solution came out of talks.
Monday 10 August is a public holiday in South Africa, and Seshoka said no action was planned for that day.
"We hope there can be some intervention during this long weekend. If not, on Tuesday (11 August) we shall start our strike," he said.
"What we plan is to have protests on Tuesday (11 August) and Wednesday (12 August) to be held only during lunch time, and a full blown march on Eskom's headquarters on Thursday (13 August) when no one will go to work and everything will come to a standstill."
Paris Mashego, the NUM chief negotiator at Eskom said despite an earlier indication from Eskom of a willingness to settle the dispute, no new offer had yet materialised. The union is demanding a pay increase as well as a housing allowance.
DEMANDS
The NUM represents some 16,000 workers, about half of the employees at the power firm. The NUM, Solidarity and the metal workers union have rejected Eskom's latest offer of an 8 percent increase, as well as a 9.5 percent raise proposed by mediators.
Unions want 14 percent and demand more housing allowance, but say they could settle for a double-digit pay increase plus the promise of a housing allowance for next year.
Eskom spokesman Andrew Etzinger said he was still confident a deal could be reached to avoid a strike, but that it had contingency plans to deal with any work stoppage.
"The fact that we have not made a new offer is not to mean we are inflexible, these processes can take time."
Blackouts early last year temporarily crippled mine output, metal smelters and manufacturing, denting economic growth.
"If a prolonged strike brings the entire economy to a halt, the cost to the economy will be up to about 7 billion rand a day," Leon Louw, an economist at the independent Free Market Foundation in Johannesburg, said.
A power strike would be a challenge to President Jacob Zuma's authority as he tries to lead South Africa through the recession and defuse anger in poor townships.
The government awarded a 13 percent wage hike to council workers last week, nearly double the inflation rate of 6.9 percent for June, to end a 5-day strike.
On Friday 7 August the Communication Workers Union said its members at telephone group Telkom would strike nationwide on Tuesday 11 August after failing to reach a pay agreement with the firm.
A strike at Eskom could also hurt investor sentiment after a wave of industrial action that led to above-inflation settlements. The rand fell as much as 2.46 percent on Thursday 6 August, its biggest one-day decline since May 11. It was steady on Friday 7 August.
By James Macharia
© Thomson Reuters 2022 All rights reserved.