S.Africa retail sales fall, economy under pressure
JOHANNESBURG (Reuters) - South Africa's retail sales fell by 6.7 percent year-on-year in June, showing demand remains depressed by a recession that has resulted in job losses across Africa's biggest economy.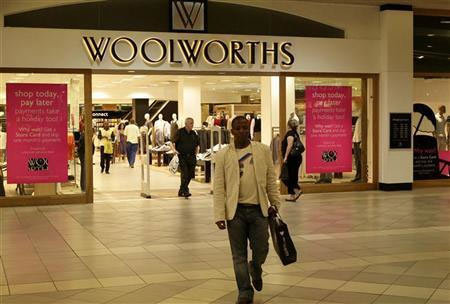 Photo: REUTERS/Siphiwe Sibeko
The data lends weight to the argument for more interest rate cuts this year, although the majority of analysts polled by Reuters last week expect the central bank to leave the key repo rate unchanged at 7.5 percent when it concludes a 2-day meeting which started on Wednesday 12 August.
Statistics South Africa said retail sales deteriorated after a revised 4.4 percent year-on-year fall in May. They were down 6.0 percent in the three months to June, compared to the same period a year ago.
The figures come in the wake of data showing manufacturing shrank sharply in June, firming expectations that the economy, which fell into its first recession since 1992 in the first quarter of this year, will register a third consecutive contraction in Q2.
"I think this confirms that the second quarter was another negative quarter in terms of consumer spending," said Citadel economist Dave Mohr. "The South African economy was still in recession and GDP probably fell further."
Sales have partly been hit by 500 basis points' worth of interest rate hikes between June 2006 and June 2008 as the central bank sought to rein in inflation.
The Reserve Bank started cutting interest rates in December and has since reduced rates by 450 basis points to help the economy, mired in its first recession in nearly two decades.
The central bank, however, left rates on hold in June, citing inflation concerns, and 23 out of 26 economists polled by Reuters last week expect rates to stay on hold again this month, given inflation is still outside the 3 to 6 percent target band.
COSATU DEMANDS 200 BPS CUT
Leaving rates steady again this week would anger labour unions who have clashed with Governor Tito Mboweni over the central bank's failure to meet their demands for hefty cuts and who celebrated news that he will leave the post in November.
In a statement, labour federation COSATU, a powerful ally of the ruling ANC, said this week's manufacturing data leaves thousands of jobs in jeopardy.
"COSATU repeats its demand to the outgoing Governor, Tito Mboweni, in his ... announcement tomorrow, to face up to reality revealed by this statistic and go for a minimum 200 basis point drop in the repo rate."
Twelve of the analysts surveyed by Reuters saw a chance of another cut before the end of the year, including the minority 3 expecting one on Thursday 13 August.
Mboweni is due to announce the decision of the monetary policy committee from around 1300 GMT.
Some analysts said the retail sales data might just help tilt Thursday (13 August)'s decision in favour of a rate cut.
"The Reserve Bank is going to have to respond to these numbers and cut rates tomorrow," said Brait economist Colen Garrow.
The rand was firmer at 8.1465 against the dollar at 1000 GMT from 8.1675 before the data was released at 0930 GMT. The yield on the 2015 government bond was at 8.49 percent from 8.51 percent before.
By Stella Mapenzauswa
© Thomson Reuters 2022 All rights reserved.