Rwanda plans scheme to avoid conflict minerals
NAIROBI (Reuters) - Rwanda plans to introduce a scheme to help buyers certify the origin and supply chain of tin and other ores to ensure they were not from conflict zones, a mining official said on Monday.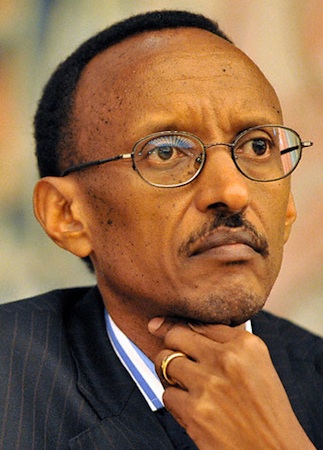 President of Rwanda Paul Kagame
Rwanda said it would cooperate with ITRI, a global tin authority, in a scheme that it hopes will mitigate the impact of the United States' "conflict minerals" bill, which some in the industry called a de facto embargo.
The legislation passed by the U.S. Senate in July requires companies to prove materials extracted from Democratic Republic of Congo and its nine neighbours, including Rwanda, are not linked to conflict.
"It's giving confidence to our buyers to make sure the minerals they are buying are really from Rwanda," Michael Biryabarema, director of the Rwandan Geology and Mines Authority told Reuters by telephone.
"It's voluntary but in the end every company will want to do it because everybody wants to sell their property."
Rwanda is an important conduit for Congo's tin, tantalum and tungsten trade. Rwanda re-exported material worth $11 million in 2009, according to central bank data.
Much of Congo's minerals, including the gold, tin and tantalum that end up in jewellery, laptops and cell phones, come from its troubled east which borders Rwanda, where fighting has displaced more than 1.45 million people.
Campaign groups argue illegal taxation of minerals passing through militarised areas fuel the conflict.
Many of Congo's minerals are dug from unofficial artisanal mines and concerns that the proceeds from their sale support rebel groups responsible for recent killings and rapes has led to a new efforts to clamp down.
Analysts said the ITRI Tin Supply Chain Initiative (iTSCi) was a welcome step towards an internationally recognised industry standard, but cautioned that the scheme needs to be legally binding.
"I'm keen that it happens and cautiously optimistic that this will have benefits to the industry, certainly in relation to the U.S. conflict minerals act, but with the caveat that it's got to have some teeth which means some enshrinement in law," Simon Gilbert, an independent extractive industries consultant, told Reuters.
The iTSCi scheme will complement work already carried out by the Rwandan authorities under the German government's BGR (Certified Trading Chain) project at a number of larger sites in the country, ITRI said in a statement.
Rutongo Mines Ltd, a major investor and the largest producer of cassiterite within Rwanda, will be the first to adopt the process, ITRI said.
"Ultimately this is a good move by the industry as it consolidates the two currently most credible attempts at traceability. (But) the Achilles heal is going to be government oversight of the scheme," Harrison Mitchel, director of London-based Resource Consulting Services Limited.
By Hereward Holland
© Thomson Reuters 2023 All rights reserved.