Russia luxury down with a bump in 2009
By Amie Ferris-Rotman and Maria Plis
MOSCOW (Reuters) - Kerchiefed women peddle fake designer handbags in front of the pitted Alexander McQueen and Stella McCartney stores, whose signs have been scratched off by hand less than 18 months after their grand openings.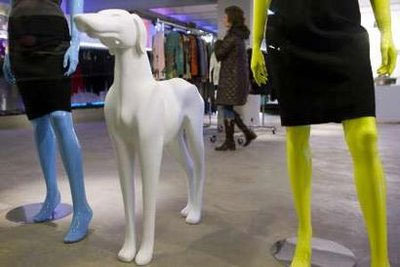 A woman walks inside a designer store in Moscow March 29, 2009 (Source: REUTERS/Thomas Peter)
The British designers' stilettos, diaphanous gowns and Italian-made wool coats were stuffed to the back of the adjoined stores and sold at a 70 percent discount before the financial crisis sealed their doors for good earlier this month.
The Russian capital, notorious worldwide for its exorbitantly priced restaurants, gridlocked traffic of sports utility vehicles and love of excess is taking a massive hit as recession bites in the world's fourth-largest luxury buyer.
Analysts say this year's profits will be slashed by around a third in the country's luxury clothes and accessories industry, which is estimated to be worth between $4.5 billion and $9 billion. Moscow buys over 80 percent of Russia's luxury goods.
The sudden sobriety is a far cry from just over a year ago, when Donatella Versace and Tom Ford jetted in to talk of their expansion plans in Russia to enthusiastic crowds.
Now Sweden's Hennes & Mauritz, famed for its low retail prices, is eyeing the very spot Alexander McQueen occupied, its chief executive Rolf Eriksen told Reuters earlier this month.
Russia's Crocus Group, which owns a palm tree-lined shopping center selling diamonds and limousines and around 100 luxury boutiques in Russia and Azerbaijan, is also feeling the pinch.
"In Moscow we have started to experience the slowdown and I must say it is substantial," its Baku-born commercial director Emin Agalarov said in an e-mail.
"Overall, my expectations are very pessimistic so I will not scare anyone with the figures, but trust me in the first half of 2009 we (retailers) will all suffer."
Cobbled and dainty Stoleshnikov Pereulok, Moscow's answer to London's Bond Street, is awash with industry rumors of crisis-spurred shutdowns. A single sheet of paper taped on the whitewashed windows of Vivienne Westwood's sole Russian store says it is closed for 'repairs'.
Its London-based spokeswoman said the Russian agent for the store had pulled out of retail.
Russian franchiser Aizel, which manages a group of boutiques including U.S. designers Diane von Furstenberg and Marc Jacobs and British lingerie firm Agent Provocateur said sales at its stores are falling by up to 10 percent.
At fashion shows, it is a similar story.
Organizers of the biannual Russian Fashion Week, which opened on Saturday, said they would scale back the number of shows by 20 percent from October due to fewer participants. That's a ripple effect from Paris welcoming fewer Russian jets at this month's fashion week than previous years.
"We decided... to concentrate on quality. With the crisis, you have to put everything you have into production," said Olga Sorokina, creative director of Russian luxury label Ifre.
The former model nixed debut catwalk shows in the French capital and Moscow and instead presented her collection of python skin bags, leather bustiers and fur coats in a modest showroom in Paris.
As the chairman of Emanuel Ungaro, Mounir Moufarrige, put it backstage at his Paris show: "Russian clients are buying less."
RECOVERY PEGGED TO OIL
Analysts say recovery in the luxury market hangs on commodities and energy prices on which the Russian economy heavily depends.
"How quickly commodities and energy prices recover will determine the pace for luxury," said independent consumer analyst Andrei Verkholantsev in Moscow.
Russia's equity market has been in recovery mode for the last three weeks as crude oil prices have nudged back from devastating lows below the $40/barrel level crucial to Russia's budget, fuelling a rise in the ruble rate.
Recent rallies at Moscow's two main bourses have started to reassure investors, and oil's rise to over $50 this week has lifted on ruble assets.
But the overall economic downturn suggests oil's recovery will be more of a slow crawl than a sprint to last July's record peaks of near $150 a barrel.
Magram Market Research, which analyses the Russian luxury market, believes it will get worse before it gets better.
"It's only the beginning," warned Marina Malykhina, the firm's chief executive.
ELITE BREAKS THROUGH
Though the number of Russia's billionaires halved in the last year, some luxury brands are surviving and even flourishing.
"The behavior of our Russian clients has not changed recently," the president of fashion at Chanel, Bruno Pavlovsky, told Reuters. "We have witnessed more and more very young women buying their first Chanel bag or accessory."
He said the century-old fashion house, which recently laid off 200 temporary workers, is about to open a new boutique in the Urals city of Yekaterinburg, home mainly to machine-building and defense industries and one of Russia's richest and fastest-growing cities.
Chanel is also seeking more business opportunities in Moscow, where it has two shops, and across the country.
Accessories are usually profitable because they take up less store space than clothes, which also come in awkward sizes that tend to need discounting at the end of the season.
French fashion and leather goods company Louis Vuitton, whose signature monogram brown and gold bags are often flaunted by the Moscow elite, is also opening a store in Yekaterinburg in late April as Russian demand for its accessories is stable.
Over the next few years the firm, part of French luxury goods group LVMH, plans to open a string of new boutiques in the Black Sea resort town of Sochi and the southern cities of Samara and Rostov on Don, its Russian spokesman Dmitry Fedosov said.
(Additional reporting by Sophie Hardach, Mathilde Gardin and Elizabeth Pineau in Paris, Tom Peter in Moscow; Editing by Sara Ledwith)
© Thomson Reuters 2023 All rights reserved.